Bryter Layter
Antilles AN 7028 (1976)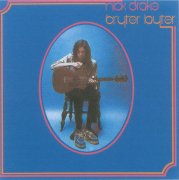 Album available as:-
(Island CID 9194)
A reissue of Island ILPS 9134
This is a particularly difficult album to come to any firm conclusion on. For one thing the reaction it produces depends very much on the mood of the listener. It's late night coffee 'n' chat music. The ten tracks are all very similar - quiet, gentle and relaxing. Nick Drake sends his voice skimming smoothly over the backing. The range of musicians used is apt to catch one unawares. Among the talents employed are Dave Pegg (bass) and Dave Mattacks (drums) both of Fairport Convention, Richard Thompson (ld gtr) ex-Fairport, John Cale (celeste, piano and organ) ex-Velvet Underground, Ray Warleigh (alto sax), Chris McGregor (piano), and Pat Arnold and Doris Troy (backing vocals).
- A. M, Melody Maker, 13/03/71
A beautiful guitarist - clean and with perfect timing - accompanied by soft, beautiful arrangements by Robert Kirby. Nick isn't the world's top singer, but he's written fantastic numbers that suit strings marvellously. Definitely one of the prettiest (and that counts!) and most impressive albums I've heard. Remember what Mason Williams did with Classical Gas? A similar concept here, but Nick does it better - it's refined. Happy, sad, very moving.
- L. G, Record Mirror, 20/03/71
I get the feeling that only a Joe Boyd-Paul Harris alliance could have produced such a superb album as this. And once again a great slice of the credit must go to Robert Kirby, whose splendid arrangements are as noticable on this album as they were on Nick Drake's last album. On their own merits, the songs of Nick Drake are not particularly strong, but Nick has always been a consistent if introverted performer, and placed in the cauldron that Joe Boyd has prepared for him, then things start to effervesce. Also joining guitarist Nick Drake on various tracks are Dave Pegg, Richard Thompson, Ray Warleigh, Mike Kowalski, Paul Harris, Ed Carter, Lyn Dobson, John Cale, Chris McGregor, Pat Arnold and Doris Troy; it seems nothing has been spared to make this album a success, and Joe Boyd and Nick Drake have certainly succeeded in their intentions. There has been a long gap between Nick's first and second albums, and anyone who has seen Nick performing at Witchseason concerts in the interim will recognise tracks like Hazey Jane. And this, like all his songs, does take time to work through to the listener, with help from the beautiful backing which every track receives.
- Jerry Gilbert, Sounds, 13/03/71
With even more of the Fairport Convention crew helping him out - including bassist Dave Pegg and drummer Dave Mattacks along with, again, a bit of help from Richard Thompson - as well as John Cale and a variety of others, Drake tackled another excellent selection of songs on his second album. Demonstrating the abilities shown on Five Leaves Left didn't consist of a fluke, Bryter Layter featured another set of exquisitely arranged and performed tunes, with producer Joe Boyd and orchestrator Robert Kirby reprising their roles from the earlier release. Starting with the elegant instrumental "Introduction," as lovely a mood-setting piece as one would want, Bryter Layter indulges in a more playful sound at many points, showing that Drake was far from being a constant king of depression. While his performances remain generally low-key and his voice quietly passionate, the arrangements and surrounding musicians add a considerable amount of pep, as on the jazzy groove of the lengthy "Poor Boy." The argument could be made that this contravenes the spirit of Drake's work, but it feels more like a calmer equivalent to the genre-sliding experiments of Van Morrison at around the same time. Numbers that retain a softer approach, like "At the Chime of a City Clock," still possess a gentle drive to them. Cale's additions unsurprisingly favor the classically trained side of his personality, with particularly brilliant results on "Northern Sky." As his performances on keyboards and celeste help set the atmosphere, Drake reaches for a perfectly artful reflection on loss and loneliness and succeeds wonderfully.
- Ned (AMG)
Track Listing:
1. Introduction (Drake) - 1:33
2. Hazey Jane II (Drake) - 3:46
3. At the Chime of a City Clock (Drake) - 4:47
Music review by Iain Cameron.
4. One of These Things First (Drake) - 4:52
5. Hazey Jane I (Drake) - 4:31
6. Bryter Layter (Drake) - 3:24
7. Fly (Drake) - 3:00
8. Poor Boy (Drake) - 6:09
Music review by Iain Cameron.
9. Northern Sky (Drake) - 3:47
20. Sunday (Drake) - 3:42

Nick Drake - Guitar, Vocals
Dave Peg - Bass
Dave Mattacks - Drums
Richard Thompson - Lead Guitar
John Cale - Celeste, Piano, Organ
Ray Warleigh - Alto Saxophone
Chris McGregor - Piano
Pat Arnold - Backing Vocals
Doris Troy - Backing Vocals