On Air
Strange Fruit Records SFRSCD046 (1997)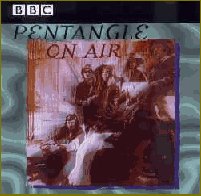 Album available as:-
(Strange Fruit Records SFRSCD046)
Do you know anything about this album and can write a quick review? Email webmaster.
Track Listing
1. Cuckoo Song
2. Hunting Song
3. Light Flight
4. People On The Highway
5. No Love Is Sorrow
6. Cherry Tree Carol
7. Jump Baby Jump
8. Lady Of Carlisle
9. Train Song
10. Hunting Song
11. Light Flight
12. In Time
13. House Carpenter
14. I've Got A Feeling


John Renbourn - Guitar, Vocals
Bert Jansch - Guitar, Vocals
Jacqui McShee - Vocals
Danny Thompson - Double Bass
Terry Cox - Drums
Artist Gig Guide
Click on the links below to see an accurate gig guide of the following artists.
John Martyn