The Three Kingdoms
Shanachie 95006 (1986)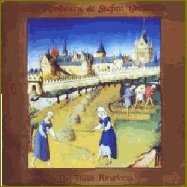 Album available as:-
(Shanachie 95006)
Do you know about this album and can write a short review? Email webmaster.
Track Listing

1. The Three Kingdoms (Grossman/Renbourn)
2. Round About Midnight (Hanighen/Monk/Williams)
3. Dollar Town (Grossman)
4. Catwalk (Renbourn)
5. Cherry (Ibrahim)
6. Rites of Passage (Grossman/Renbourn)
7. Medley: Kiera's Dream/Parson's Mud (Grossman)
8. Keeper of the Vine (Grossman/Renbourn)
9. Minuet in D Minor (Renbourn)
10. Farewell to Mr. Mingus (Grossman)
11. Medley: Abide With Me/Old Gloryland (Monk/Renbourn)




John Renbourn - Guitar
Stefan Grossman - Guitar
Artist Gig Guide
Click on the links below to see an accurate gig guide of the following artists.
John Martyn