The Hermit
Transatlantic TRA336 (1976)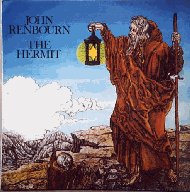 Album available as:-
(Shanachie SH97014)
Other Releases:-
(Shanachie Records CD 97014, Castle Communications ESM CD 436. A double CD with 'The Lady and the Unicorn)
Renbourn's first post-Pentangle (or nearly post-Pentangle) solo album, joined briefly by fellow guitarist Dominique Trepeau and featuring further contributions by John James, is one of his most beautiful recordings, and also among his most spare guitar instrumentals. Some of the material is drawn from lute and harp sources, and it is ear-opening to hear some of the more familiar pieces among the latter (such as "O'Carolan's Concerto") transcribed for guitar, but Renbourn isn't above adapting themes from television commercials, either. The mood of much - though not all - of this record is one of serious introspection, as Renbourn stays generally within a classical guitar mode. He has fun with the material, and the CD booklet also includes musical transcriptions of some of the tunes on the record, for the benefit of Renbourn's fellow guitarists.

- Bruce Eder (AMG)



Track Listing
1. The Hermit (Renbourn) - 3:15
This is the sort of tune that most guitar players put together sooner or later. It is made up entirely of short phrases that fit nicely on the guitar and can usually be rolled into something that resembles an instrumental
2. Old Mac Bladgitt (Renbourn) - 3:59
This is an upright iron grand type of tune, a little worn on the felts. I use the tuning DGDGBD but somehow manage to avoid actually playing in the key of G major
3. Caroline's Tune ( Renbourn, Trepeau) - 3:20
Dominique Trepeau came over from Paris to stay for a few days and we put together this duet version of his tune while he was here
4. Three Pieces By O'Carolan (O'Carolan) - 3:58
Turlough O'Carolan, the blind harpist and poet, occupies a unique position in the history of Irish music. He is thought of as being the last of the Irish Bards and during his lifetime he was held in high regard for the quality of his compositions and also feared for the sharpness of his tongue. He was renowned for his love of good whisky which is the theme and inspiration of a number of his finest works. After his death, brought about by a period of enforced abstinence, his skull is said to have been preserved by the country people and used as a drinking vessel for a cure for epilepsy.
5. The Lamentation of Owen Roe O'Neill - 0:40
The Lament for the dead is a very old and important class of Irish music. This piece is in honour of General Owen Roe O'Neill who led the Irish against Cromwell and was the hero of the Victory of Benburb. His death in 1649 laid Ireland open to the Cromwellian settlement. His tune is printed in Captain Francis O'Neil's 'Music Of Ireland'. Lord Inchiquin (1:46) The subject of this piece is probably the 4th Early of Inchiquin who succeeded to the title in 1719 and lived in County Clare. The source is the Bunting manuscript in the Library of Queen's University, Belfast. Mrs. Power (O'Carolan's Concerto) (1:41) This is one of O'Carolan's best known compositions. It comes from a time when Italian composers were enjoying much favour in the great houses of Ireland and is said to have been composed spontaneously by O'Carolan in a contest of musical skills with violinist Geminiani when they were both quests of the Irish nobleman Lord Mayo'. (I know this tune best as 'Flatback Caper' from Liege and Lief by Fairport Convention! - LK)
6. The Princess And The Puddings - 2:00
This is a short tune in E minor which is an extension of a 45 second background piece commissioned by the makers of some famous fruit pies. the construction is genuine Mock Tudor.
7. Pavanna (Anna Bannanna) - 3:40
A little tune respectfully dedicated to the young daughter of a prominent guitarist. This is played in a tuning commonly used by guitarists for vihuela and lute music.
8. Toy For Two Lutes - 1:27
'This is taken from the Thomas Robinson 'School of Musicke' published in 1603, which contains a number of solo pieces and duets for the lute'
9. Lord Willoughby's Welcome Home - 5:28
'This appears to been a very popular Elizabethan tune. There are settings for solo lute by Thomas Robinson and Nicholas Vallett (as Soet Robbert), also by Dowland with a second part added anonymously and an arrangement by Bird in the Fitzwilliam Virginal Book as 'Rowland'. It seems that the tune was made popular by Will Kemp and his players who accompanied Robert Dudley, Earl of Leicester, to the Netherlands. When Leicester was disgraced and recalled he was succeeded by Lord Willoughby and, in the hope of finding a new patron, Kemp renamed the tune in his honour' (with John James on guitar)


John Renbourn - Guitar
John James - Guitar on Track 9
Dominique Trepeau - Guitar on Track 3