Live at Leeds & More
Recall 9559 (2006)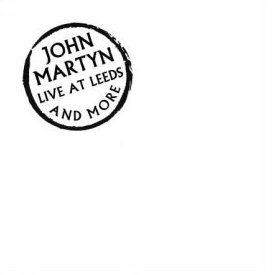 Album available as:-
(Recall 9559)
Love the original 6 tracks on disc 1, but the sound quality (pitch wobble, loads of hiss) and performances (mediocre I thought) on the bonus tracks on disc 1 make them pretty unlistenable to me, Paul Kossoff or not - this in contrast to another reviewer who was pleased to hear them anyway.
Disc 2 is basically a sampler for the One World catalogue of 'official bootlegs' from John's sleeker, full band electric lounge style of the 80's and 90's - which are enjoyable, but out of place here alongside his earlier acoustic and experimental work, which is what Live At Leeds was all about.
So personally I wish they'd left well alone, as all the extra material does is dilute the impact of the original 6 tracks. I can't help thinking they'd have been better off giving the original, well-balanced 50 minute album the remastering treatment, if the original tapes are still extant.
Track Listing:
CD1
Outside In (J. Martyn)
Solid Air (J. Martyn)
Make No Mistake (J. Martyn)
Bless The Weather (J. Martyn)
Man In The Station (J. Martyn)
I'd Rather Be The Devil (J. Martyn)
My Baby Girl (J. Martyn)
You Can Discover (J. Martyn)
So Much In Love With You (J. Martyn)
Clutches (J. Martyn)
Mailman (J. Martyn)

CD2
Big Muff (J. Martyn/ L. Perry)
Over The Rainbow (Arlen/Harburg)
Yes We Can (Dorsey/Toussaint)
Step It Up (J. Martyn)
Dealer (J. Martyn)
Beverley (J. Martyn)
Lookin' On (J. Martyn)
The River (J. Martyn)
Root Love (J. Martyn)
Anna (J. Martyn)
John Martyn - Guitar, Vocals