London Conversation (Remastered)
Universal Records 983 073-3 (2005)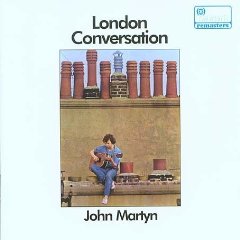 Album available as:-
(Universal Records 983 073-3)
In 1967, John Martyn became the first white solo act to sign with Island Records. While this is notable in the history of the label, his initial release, London Conversation, on the other hand, stands as a mere footnote. The record, though incorporating touches of blues and his characteristic guitar and vocal, doesn't really prepare you for what's to come from Martyn. The album is a basic, no-frills, guitar and voice effort, although one track, the droning dulcimer and flute-driven "Rolling Home," shows Martyn's urge to stretch, which would become much more evident in the coming years. His vocal delivery is traditionally British, while his playing is steeped in the eclectic folk of British artists such as Davey Graham and Bert Jansch, as well as American blues and folk. London Conversation, whose material (written primarily by Martyn) reflects the era and his age (18 years old), comes across as a young, although soon to be important artist looking for a voice.
- Brett Hartenbach (AMG)
John's debut album was recorded in mono and released in October 1967 when John was 20 years old. The album is in the folk tradition and contains some excellent lyrics and jazzy instrumentation such as the sitar and flute in Rolling Home. As a result it won praise and the instrumentation distinguished John from his contemporaries in the folk scene. Back To Stay is a beautiful love song with a sad and dreamy melody, a sign of things to come !
It is reported that John had only been playing the guitar for a few months when the album was recorded and was influenced by two people in particular that he knew . "Les Brown, who is completely unknown and has never recorded...he plays a kind of American Doc Watson guitar very very well. Lovely voice. Also a friend of mine called Paul Wheeler who is featured on the second album."
- John Hillarby (The John Martyn Website)
Track Listing:
1. Fairy Tale Lullaby (J. Martyn)
2. Sandy Grey (R. Fredericks)
3. London Conversation (J. Martyn, J. Sundell)
4. Ballad Of An Elder Woman (J. Martyn)
5. Cocain (Traditional arranged by J. Martyn)
6. Run Honey Run (J. Martyn)
7. Back To Stay (J. Martyn)
8. Rolling Home (J. Martyn)
9. Who's Grown Up Now (J. Martyn)
10. Golden Girl (J. Martyn)
11. This Time (J. Martyn)
12. Don't Think Twice (B. Dylan)

John Martyn - Guitar, Vocals, Harmonica, Keyboards