Lonely Love
Permanent Records PERMCD14 (1993)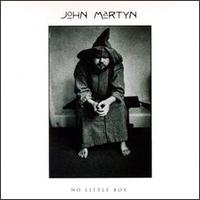 Album available as:-
(Blueprint BP278CD)
Other Releases:
(Mesa R2 79057)
A wonderful collection of songs that deserve to be heard, No Little Boy serves as a sort of greatest-hits package for John Martyn, and also makes an excellent introduction to the music of this unique performer. This album is made up of newly re-recorded versions of some of Martyn's finest material from throughout his career. With assistance from long-time fan and friend Phil Collins, and contributions from an all-star cast including vocalist Levon Helm of the Band, Pink Floyd guitarist David Gilmour, saxman Andy Sheppard and others, Martyn delivers definitive takes on his catalogue of folk- and jazz-flavored material, recorded with pristine clarity and crispness. His trademark vocal slur is in evidence here, but the enunciation is more decipherable than on earlier recordings. This is beautiful, haunting, densely atmospheric, at times funky music.
- Jim Newsom (AMG)

Released in July 1993. John was unhappy that Couldn't Love You More had been released. John was in fine voice throughout and Levon Helm, Phil Collins and Andy Sheppard all featured. Some songs were slightly remixed to bring more character to the songs but most songs were completely overhauled. Some of the tracks were deleted and four songs were entirely re- recorded, I Don't Wanna Know, Sunday's Child and Bless The Weather featuring John Giblin on bass, and a excellent new version of Just Now featuring Levon Helm on harmony vocals. The end result was a vastly superior album, much more in balance and John was happy.
It was a lot to expect from his fans to buy an album with such a similar content but many did and most prefer John's reworking of Couldn't Love You More to the original. However, there was no doubt that John's credibilty had been harmed by the release of two very similar albums. Was John correct to rework the material ? What were Permanent thinking of to release an album without John's approval ? This was the the end of the road for John and Permanent.
- John Hillarby (The John Martyn Website)
Track Listing:
1. Solid Air (Martyn) - 6:43
2. Ways to Cry (Martyn) - 5:03
3. Could've Been Me (Martyn) - 4:21
4. I Don't Wanna Know (Martyn) - 4:29
5. Just Now (Martyn) - 4:06
6. One Day Without You (Martyn) - 3:54
7. Sweet Little Mystery (Martyn) - 4:11
8. Sunday's Child (Martyn) - 6:11
9. Head and Heart (Martyn) - 4:04
10. Fine Lines (Martyn) - 4:25
11. Bless the Weather (Martyn) - 4:41
12. Man in the Station (Martyn) - 4:06
13. One World (Martyn) - 8:36
John Martyn - Guitar, Vocals