Foundations
Island Records ILPS9884 (1987)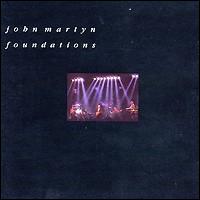 Album available as:-
(Island Records IMCD180)
Other Releases:
(Holland/ Germany 208 704, Island CID 9884)
Culled from a performance at the Town and Country Club on November 13, 1986, on the Piece By Piece tour, Foundations is only an average document of a Martyn live show. Despite the inclusion of three tracks ("The Apprentice," "Send Me One Line," "Deny This Love") that were new and unreleased at the time, the performance borders on the dull, and those looking for an introduction to the live Martyn would be better off getting Live at Leeds or Philentropy. A videotape of the show was also released, which added three additional songs ("Solid Air," "Dealer,", "Sweet Little Mystery").
- Rob Caldwell (AMG)

Released in October 1987. John toured America, Europe and Britain in 1986 and Island released Foundations, which is a live album recorded at the Town and Country club on 13th November 1986. The album contained three new songs, The Apprentice, Send Me One Line and Deny This Love. John was moved to write the first track having met a particularly ill looking man in a pub near the Sellafield nuclear recycling plant in Cumbria. John enquired about the man's health and why he was so ill and he replied that he worked at the station - hence the song lyrics. Send Me One Line was written for a film called 84 Charing Cross Road (after the Helene Hanff novel) but was never used. The film is the story of the love affair between a woman and a shop. The rest of the album consisted of enjoyable and interesting re-workings of old favourites and was well played and produced.
- John Hillarby (The John Martyn Website)
Track Listing:
1. Mad Dog Days (Martyn) - 6:02
2. Angeline (Martyn) - 5:28
3. Apprentice (Martyn) - 4:50
4. May You Never (Martyn) - 4:10
5. Deny This Love (Martyn) - 4:32
6. Send Me One Line (Martyn) - 5:03
7. John Wayne (Martyn) - 7:38
8. Johnny Too Bad (Bailey/Beckford/Crooks/Crooks/Martyn) - 6:50
9. Over the Rainbow (Arlen/Harburg) - 5:08
John Martyn - Guitar, Vocals