Philentropy
Dojo Records DOJOLP26 (1983)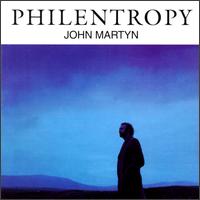 Album available as:-
(Eagle EAMCD081)
(Body Swerve JMLP001 (independent), Eagle Records EAMCD 081 (combined with Snoo), Blueprint BP275CD, DOJO records (Castle Communications) DOJOCD 26)
John Martyn's second live release, Philentropy, is an interesting look back at his career from his transitional period in the early 1970s through 1982's Well Kept Secret. Built largely around electric guitar and synthesizers without even a trace of acoustic instruments, he continues to move even further away from the folk sound of his early days. Along with a tight three-, sometimes four-piece band, Martyn takes this opportunity to use years of experience perfecting his sound to attempt to update these selections from his back catalogue. Songs such as "Sunday's Child," "Smiling Stranger" and "Root Love" seem to reach fruition in this setting and soar above their previous incarnations, while "I Don't Wanna Know" and "Make No Mistake" retain the passion of the original recordings. Philentropy, which may put off fans of his earlier work, isn't just a typical rehashing of past work in a live setting, but more a completion of a journey.
- Brett Hartenbach (AMG)
John had recently remarried and released Philentropy in November 1983, without any announcement, whilst being out of contract.

"I had some tapes of a Brighton Dome gig and a Bristol gig and I just thought I'd make a live album out of it."

This live album was recorded in London, Brighton and Oxford between Autumn 1982 and Spring 1983. Originally released on John's own label - Body Swerve, bearing the reference JMLP001, this was, and is considered by many to be the best live album. The recording is charged with atmosphere and excitement and features some of John's most popular songs. John's guitar playing is outstanding and his playing is matched by the members of the band, the line-up was Alan Thomson (bass), Jeffrey Allen (drums), Danny Cummings (percussion) and Ronnie Leahy (keyboards). A mid-price re-issue on Castle in 1986 (DOJO26) is now deleted and the original red Body Swerve issue hard to find.

Some people claim that this is not a live recording, meaning it was recorded live in the studio and not in the venues mentioned. However, John himself states the tracks were indeed recorded live but overdubs and mixing were done in the studio.
Philentropy was first released independently in 1983; then re-released by DOJO (BMG) in 1986. First CD release July 1986. 1997 in Blueprint catalogue (Voiceprint); June 1999 'digitally remastered' release on Eagle Records, with the Snoo demotapes as 'bonus tracks', which is rather silly. This is the only release with liner notes but these have been 'sampled' from a text which appeared on the John Martyn Connection, the Guinness Encyclopedia of Popular Music and a CDROM from Microsoft.

- John Hillarby (The John Martyn Website)
Track Listing:
1. Make No Mistake (Martyn) - 3:31
2. Don't Want to Know (Martyn) - 4:11
3. Root Love (Martyn) - 4:56
4. Looking On (Martyn) - 5:58
5. Hung Up (Martyn) - 4:29
6. Johnny Too Bad (Martyn) - 7:47
7. Sunday's Child (Martyn) - 6:02
8. Smiling Stranger (Martyn) - 4:26



John Martyn - Guitar, Vocals
Alan Thompson - Bass
Jeffrey Allen - Drums
Danny Cummings - Percussion
Ronnie Leahy - Keyboards