Well Kept Secret
WEA 99255 (1982)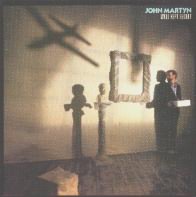 Album available as:-
(Warner Bros 2292530632)
Other Releases:
(Duke 90021, WEA 2292-53063-2, Warner M111023)
Returning to his form of several releases ago, John Martyn found good things to convey to the listener here. The classic love song "Never Let Me Go" is worth the price of admission here alone, but the rest of the cuts have something to recommend them also. Too bad Well Kept Secret turned out to be only a lost, rough-cut gem.
- James Chrispell (AMG)

Released in September 1982, Well Kept Secret was influenced by Phil Collins particularly on the 'disco' track Back With A Vengeance. The album was very pop orientated although John's trademarks of sensuality and emotion were present particularly on Could've Been Me and Hung Up. The album charted for seven weeks, this time reaching the Top 20. Halfway through the recording John accidentally impaled himself on a fence, puncturing a lung, and was so loaded during the subsequent sessions that he can't even remember taking part! The superb ballad Never Let Me Go featured Ronnie Scott on saxophone.
Well Kept Secret was released in America with re-mixed tracks. A 1998 reissue included two bonus tracks, Gun Money US remix and Hiss on the Tape (live).
- John Hillarby (The John Martyn Website)
Track Listing:
1. Could've Been Me (Martyn) - 3:44
2. You Might Need A Man (Martyn) - 3:09
3. Hung Up (Martyn) - 3:58
4. Gun Money (Martyn) - 5:01
5. Never Let Me Go (Scott) - 2:48
6. Love Up (Martyn) - 3:19
7. Changes Her Mind (Martyn) - 4:35
8. Hiss On The Tape (Martyn) - 3:59
9. Back With A Vengeance (Martyn) - 3:08
10. Livin' Alone (Martyn) - 3:27
11. Gun money (US Remix) *
12. Hiss on the tape (live) *

* Bonus tracks from US release.
John Martyn - Guitar, Vocals