So Far So Good
Island Records ILPS9484 (1977)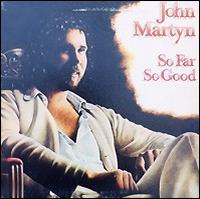 Album available as:-
(Island Records ILPS9484)
A nice compilation that only suffers from its unimaginative cover art and a weak title, this album touches on some of Martyn's standout songs to this point, including "Solid Air" and the Clapton-covered "May You Never." His early echoplex experimental track "Glistening Glyndebourne" is a nice unexpected addition to the album, and the closing previously unreleased live version of "I'd Rather Be the Devil" shows the intensity he could achieve on stage.
- Rob Caldwell (AMG)
Released on 4th March 1977. This compilation album included a live version of I'd Rather Be The Devil. John disagreed with the choice of tracks but was too busy recording One World to get involved. The album sold well, earning John a Gold Disc, which he tried to smash on more than one occasion, in disgust ! Over The Hill / Head And Heart was released as a single on 25th February 1977. In an attempt to secure more air play for the single, a DJ Copy was recorded with the words 'Sweet Cocaine' being cut and replaced with 'Dry Champagne.'
On 20th February John had apparently broken the box office record at New Victoria Theatre with over 500 people standing !
- John Hillarby (The John Martyn Website)
Track Listing:
1. May You Never (Martyn) - 3:40
2. Bless the Weather (Martyn) - 4:24
3. Head and Heart (Martyn) - 4:51
4. Over the Hill (Martyn) - 2:52
5. Spencer the Rover (Traditional) - 4:07
6. Glistening Glyndebourne (Martyn) - 6:30
7. Solid Air (Martyn) - 5:43
8. One Day Without You (Martyn) - 2:56
9. I'd Rather Be the Devil [live] (James) - 5:50



John Martyn - Guitar, Vocals