One World
Island ILPS9492 (1977)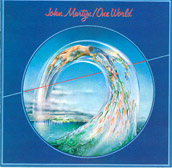 Album available as:-
(Island Records IMCD86)
Mining the same loose-ended jazz improvisations that Steve Winwood was exploring at the same time, One World sounds fuzzy and a touch out of focus. A great record for late-night listening, it includes the minor hit "Couldn't Love You More." "Small Hours" captures that time just before dawn.
- James Chrispell (AMG)
Released in November 1977. One World was critically acclaimed, was commercially accessible and sold well, charting at number 54. It contains a variety of styles and moods from the dubbed Big Muff co-writted with Lee Perry, to the incredibly romantic Couldn't Love You More which has been reworked and recorded many times since and is still a great favourite with his fans. The album closes with the mesmerising "Small Hours", a 'live' echoplex excursion featuring a flock of Canadian geese ! One of the all time great chill-out tracks which was later adapted and re-recorded as Anna for the australian feature film In Search of Anna. Unfortunately a sound track was never released, but a small number of live performance tapes featuring Anna are in existence.
- John Hillarby (The John Martyn Website)
Track Listing:
1. Outside In (Martyn) - 18:57
2. Solid Air (Martyn) - 7:13
3. Make No Mistake (Martyn) - 5:05
4. Bless the Weather (Martyn) - 4:45
5. The Man in the Station (Martyn) - 2:35
6. I'd Rather Be the Devil (James) - 8:40
7. My baby girl (Martyn) - 2:39 *
8. You can discover (Martyn) - 3:52 *
9. So much in love with you (Martyn) - 5:23 *
10. Clutches (Martyn) - 5:20 *
11. Mailman (Martyn) - 5:28 *


* Bonus Track on One World OW107CD


John Martyn - Guitar, Vocals