Inside Out
Island ILPS9253 (1973)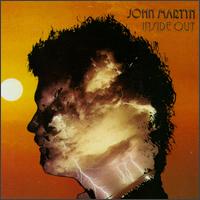 Album available as:-
(Island Records IMCD172)
Probably his most experimental effort, Inside Out saw John Martyn's work with the Echoplex become a linchpin in his overall sound. His voice, which was transforming with each recording, also became more of an instrument, developing at times a rough, bluesy quality and slipping further and further into a jazz-like slur. The album, which features Steve Winwood and Chris Wood of Traffic, as well as long time cohort Danny Thompson, balances smoldering tunes like "Ways to Cry" and "Fine Lines" with fiery, hypnotic excursions with the Echoplex, such as "Make No Mistake" and "Look In." Some of his fan base may have felt alienated by the strange flights of Inside Out, but it's proven to be an important record in Martyn's oeuvre.
- Brett Hartenbach (AMG)
Released in October 1973. John described Inside Out as "everything I ever wanted to do in music... it's my inside coming out." The album was experimental, a skillfully free-form jazz orientated album featuring superb guitar work by John and superbly varied bass playing from Danny Thompson. Other musicians included Traffic's Steve Winwood and Chris Wood, Bobby Keyes and Remi Kabaka. The intensive recording sessions were largely late at night with no cutting, editing or splicing. It was "live" and tracks were faded out where necessary. The album won John a Golden Disc from Montreaux. Considered by critics as a "cosmic foray." At the time John explained that Inside Out was all about the concept of love...
- John Hillarby (The John Martyn Website)
Track Listing:
1. Fine Lines (Martyn) - 3:48
2. Eibhil Ghail Chiuin Ni Chearbhaill (Traditional) - 3:05
3. Ain't No Saint (Martyn) - 3:36
4. Outside In (Martyn) - 8:21
5. The Glory of Love (Hill) - 1:55
6. Look In (Martyn) - 2:54
7. Beverley (Martyn) - 3:52
8. Make No Mistake (Martyn) - 5:56
9. Ways to Cry (Martyn) - 3:00
10. So Much in Love With You (Martyn) - 2:49



John Martyn - Guitar, Vocals
Danny Thompson - Double Bass