Road To Ruin
Island ILPS 9133 (1970)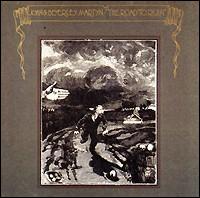 Album available as:-
(Island Records IMCD165)
Much more of a collaboration here than on their previous effort, John & Beverly Martyn continue on their way through the British folk/jazz of the seventies. Flowing with a subtle improvisation that incorporated a greater ethnic feeling, Road to Ruin makes for enjoyable listening indeed. The track, "Give Us a Ring," was written for Nick Drake. Good singing and playing make this a great album to sit back and reflect upon.
- James Chrispell (AMG)
Released in November 1970. John had numerous disagreements with Joe Boyd over the production of this album and, because of the numerous overdubs , John felt that the recording lack spontaneity. The album featured the introduction of the talents of bass player Danny Thompson. There was some discussion as to what to call Say What You Can and in the sleeve notes it is also referred to as Let It Happen.
John stopped gigging for some time and spent an increasing amount of time with his family in their home at Hastings. He was soon to become a father for the second time. After Road To Ruin, Joe Boyd disbanded Witchseason and decided that John and Beverley should record solo albums. Of this quiet period John said, "...we hadn't had a number one single, and Radio One didn't like us, and all that kind of stuff. There wasn't too much interest from the A&R men and the powers that be, so Island said, 'Give him six grand and see what he comes up with'....And that's how the next album, Bless The Weather came about."
- John Hillarby (The John Martyn Website)
Track Listing:
1. Primrose Hill (B. Martyn) - 2:57
2. Parcels (J. Martyn) - 3:29
3. Auntie Aviator (J. Martyn, B. Martyn) - 6:04
4. New Day (J. Martyn) - 3:59
5. Give Us A Ring (Paul Wheeler) - 3:53
6. Sorry To Be So Long (J. Martyn, B. Martyn) - 4:44
7. Tree Green (J. Martyn) - 3:11
8. Say What You Can (J. Martyn, B. Martyn) - 3:06
9. Road To Ruin (J. Martyn) - 6:21


John Martyn - Guitar, Harmonica, Keyboards, Vocals
Dudu Pukwana - Saxophone
Lyn Dobson - Flute
Dave Pegg- Bass
Rocky Dzidzornu - Percussion
Paul Harris - Keyboards
Wells Kelly - Drums
Mike Kowalski - Drums
Beverly Martyn - Guitar, Vocals
Alan Spenner - Bass
Ray Warleigh - Saxaphone
Danny Thompson - Double Bass