Stormbringer
Warner Brothers WB-1854 (1970)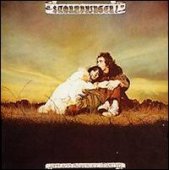 Album available as:-
(Island Records)
Having uniting careers with wife Beverly, she and John went to Woodstock, N.Y. and recorded Stormbringer! there with many local musicians, including Paul Harris and Levon Helm. Very much in the mold of electric Fairport of this period, Stormbringer! sizzles with acoustic interplay and an almost jazzy feel. Highlights include "Woodstock" (not the Joni Mitchell tune) and the title track.
- James Chrispell (AMG)
In 1969 John met and married Beverley Kutner who was making records at the time with Joe Boyd of Witchseason. John was originally hired to be Beverley's backing guitarist for recording sessions. This album was released in February 1970 having been recorded in Woodstock. John was inspired by The Band and the album included Levon Helm on drums. John began to experiment to find a distinctive guitar sound. Would You Believe Me is the stand out track which featured the introduction of the echoplex guitar technique which John pioneered and is still a major part of his gigs today.
John The Baptist / The Ocean was released by Island as a single in January 1970 on the highly collectable 'pink' label.The album was cut in the summer of 1969 under the direction of Paul Harris. Joe Boyd rented John and Beverley a house in Woodstock.
John felt that the album was just a little bit ahead of it's time, saying "...a whole lot came from that record...like people started using drum ideas and stuff, and nobody had really thought of using drums with acoustic instruments before. But it's difficult to say that sort of thing without being conceited."
John said, "It was the year of the festival. We just lived there and worked with Paul Harris very quickly and very briefly and we just went into the studio and did it very one-off, very swift. Levon Helm and Harvey Brooks we met in Woodstock and used them, just because they were friends. It seemed obvious that they should be on it. Dylan lived up the road, and Hendrix lived virtually next door. He used to arrive every Thursday in a purple helicopter, stay the weekend, and leave on the Monday. He was amazing...a good lad."
- John Hillarby (The John Martyn Website)
Track Listing:
1. Go Out And Get It (J. Martyn)
2. Can't Get The One I Want (B. Martyn)
3. Stormbringer (J. Martyn)
4. Sweet Honesty (B. Martyn)
5. Woodstock (J. Martyn)
6. John The Baptist (J. Martyn)
7. The Ocean (J. Martyn)
8. Traffic-Light Lady (J. Martyn)
9. Tomorrow Time (B. Martyn)
10. Would You Believe Me (J. Martyn)

John Martyn - Guitar, Vocals, Harmonica, Keyboards
John Simon - Keyboards
Harvey Brooks - Bass
Paul Harris - Keyboards
Levon Helm - Drums
Herb Lovel - Drums
Beverly Martyn - Guitar, Vocals
Bill Mundi - Drums