The Tumbler
Island ILPS9091 (1968)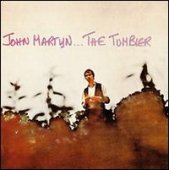 Album available as:-
(N/A)
Following an inauspicious first release for Island, John Martyn's unique brand of acoustic music began to take some sort of shape with the Al Stewart-produced The Tumbler. Martyn, whose debut was a solo acoustic offering, here employs a second guitar, bass and, most notably, jazz flautist Harold McNair to create his blend of folk, blues and jazz. While his songs show only marginal development from London Conversation, it's his arrangements and, especially, vocals which are the real differences, each becoming increasingly more idiosyncratic. Although nowhere near the caliber of his later recordings, The Tumbler is an important step in Martyn's varied career.
- Brett Hartenbach (AMG)
John's second album was released in December 1968. Another album in the folk tradition but featuring the jazz flautist Harold McNair, particularly on the romantic Dusty, The Gardeners and Fly On Home. As a young man John stayed with his sister who lived near Hampton Court and the song Dusty was inspired by his happy memories of Hampton Court Fair.
This album was produced by Al Stewart and had more of a sparkle than London Coversation and John said, "The album 'sings' a bit more than before."
Of his first two albums John said, "Those were basically acoustic albums....I got bored with the folk/acoustic thing. You can't keep churning that out, it stifles innovation, kills the personal touch."
- John Hillarby (The John Martyn Website)
Track Listing:
1. Sing A Song Of Summer (J. Martyn)
2. The River (J. Martyn)
3. Goin' Down To Memphis (J. Martyn)
4. The Gardeners (J. Martyn)
5. A Day At The Sea (J. Martyn)
6. Fishin' Blues (J. Martyn)
7. Dusty (J. Martyn)
8. Hello Train (J. Martyn)
9. Winding Boy (Morton)
10. Fly On Home (J. Martyn, Wheeler)
11. Knuckeldy Crunch And Slippledee Slee Song (J. Martyn)
12. Seven Black Roses (J. Martyn)

John Martyn - Guitar, Vocals, Harmonica, Keyboards
Harold McNair - Flute
David Moses - Bass
Paul Wheeler - Guitar