Birthday Blues
Earmark EAR42009 (2004)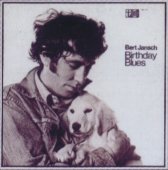 Album available as:-
Earmark EAR42009
Earmark is a joint venture between Sanctuary Records Group and Get Back Records of Italy. These are re-issues on 180g vinyl with original artwork restored.
It's no accident that Jansch's 1969 album sounds like a modified version of the Pentangle. He was a member of the great British folk-rock group at the time of this album's release, which was produced by Shel Talmy (who also worked with The Pentangle). And he's backed by the group's sterling rhythm section of Danny Thompson (bass) and Terry Cox (drums), with occasional touches of harmonica (played by British blues singer Duffy Power), alto sax, and flute. The effect is akin to hearing an unbalanced Pentangle, with no John Renbourn on dueling guitar or Jacqui McShee on vocals. That's not at all a bad thing - Jansch was one of the group's main motors, and can still be a compelling writer and performer on his own. All of the cuts on this LP are originals, showing the artist leaning a little more toward bluesy styles than usual, though the mood is predominantly British folk. It's a pleasant effort, but not his best work, either as a solo performer or within a group context. Birthday Blues and Jansch's 1967 release Nicola have been combined onto one CD on a 1993 reissue.
- Richie Unterberger (AMG)
Track Listing
1. Come Sing Me A Happy Song To Prove We Can All Get Along The Lumpy, Bumpy, Long And Dusty Road (Jansch)
2. The Bright New Year (Jansch)
3. Tree Song (Jansch)
4. Poison (Jansch)
5. Miss Heather Rosemary Sewell (Jansch)
Heather and Bert were married in 1968. When the album was being recorded, Heather was an art student and designed the sleeve.
6. I've Got A Woman (Jansch)

7. A Woman Like You (Jansch)

8. I Am Lonely (Jansch)

9. Promised Land (Jansch)

10. Wishing Well (Briggs, Jansch)
11. Blues (Bert Jansch)
Bert Jansch - Guitar and Vocals.