Jack Orion
Earmark EAR42007 (2004)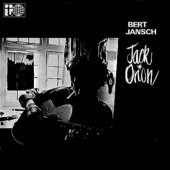 Album available as:-
(Earmark EAR42007)
Earmark is a joint venture between Sanctuary Records Group and Get Back Records of Italy. These are re-issues on 180g vinyl with original artwork restored.
After presenting almost all-original sets on his first two albums (albeit originals that sometimes borrowed heavily from traditional folk themes), Jansch opted to devote all of his third LP to traditional folk numbers. His future Pentangle partner John Renbourn joins him on four of the eight songs. Highlights include the ten-minute title track (whose length was a real oddity on contemporary folk albums of the time) and a cover of "Nottamun Town" (whose melody Dylan lifted for "Masters of War"). Not as original as the artist's first two LPs, the guitar and vocal work on these adaptations were still as influential to the '60s folk world as anything else in Jansch's catalog.
- Richie Unterberger (AMG)
Track Listing
1. The Waggoner's Lad (Traditional arranged, Jansch) 03:26

2. The First Time Ever I Saw Your Face (McColl) 01:43
Don't expect the slushy treatment given to this song by the pop singers who have attempted this ballad.
3. Jack Orion (Traditional arranged, Jansch) 09:52
A solo version of the song that made up a whole side of the Pentangle album Cruel Sister. The length of this song was notable at the time. The tune came from Bert Lloyd, who also heavily revised the words. Anne Briggs introduced it to Jansch.
4. The Gardener (Traditional arranged, Jansch) 01:44
Jansch did indeed spend some time as a gardener in Glasgow, but this is a traditional song, learned from Owen Hand.
5. Nottamun Town (Traditional arranged, Jansch) 04:33
Dylan's inspiration for 'Masters Of War'.
6. Henry Martin (Traditional arranged, Jansch) 03:11

7. Black Water Side (Traditional arranged, Jansch) 03:47
Once again, Anne Briggs introduced Jansch to the song.
8. Pretty Polly (Traditional arranged, Jansch) 04:03
Bert Jansch - Guitar, Banjo & Vocals
John Renbourn - Guitar