The River Sessions
River Records RIVERCD006 (2004)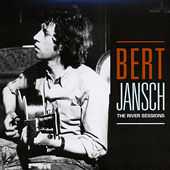 Album available as:-
RIVERCD006

The newly discovered live album, Bert Jansch–The River Sessions , recorded at City Hall in Glasgow in 1974 (released by River Records) should be available mid-June. The River Sessions sees Bert in magnificent form in an extraordinary set drawing from the two albums of the period: LA Turnaround and Santa Barbara Honeymoon. Eight of the fourteen tracks are from LA Turnaround – the only place right now to find so many songs from this seminal album on CD. What makes it even more special is the songs were originally recorded and performed in a group setting, while here they are superb solo tracks – pure Bert Jansch and his guitar. There are full sleeve-notes with brand new track-by-track comments from Bert himself.
Track Listing
1. Build Another Band
2. I've Got A Feeling
3. One For Jo
4. Blacksmith
5. Travellin Man
6. Lady Nothing
7. Fresh As A Sweet Sunday Morning
8. Angi
9. Stone Monkey
10. Dance Lady Dance
11. When I Get Home
12. In The Black-Winter
13. Running From Home
14. Chambertin

Bert Jansch - Guitar and Vocals.
Artist Gig Guide
Click on the links below to see an accurate gig guide of the following artists.