Nicola
Castle Music CMRCD333 (2002)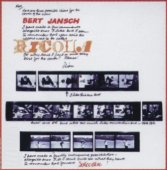 Album available as:-
Essential Records ESM 459
(re-release 1996 as a double CD Nicola / Jack Orion)
Jansch's third solo album is perhaps too lightly dismissed by both folk critics and the artist himself. Bowing slightly to commercial pressures, he allowed orchestration to be used on five of the 12 tracks. Actually, the orchestrated cuts aren't that bad at all, and the remainder are pretty much keeping with the character and high standard of his other '60s work. Nine of the 12 cuts are Jansch originals, and ably display his nimble guitar work, incorporation of blues, traditional British Isles folk influences into a contemporary style, and his Donovan-esque vocals. For the first and only time, he played both electric and acoustic guitars on this LP; it's also his first work to feature drumming. Some of the orchestrated numbers, especially "Woe Is Love, My Dear," were actually deemed to have potential as singles. That didn't happen (the cut "Wish My Baby Was Here" would have been a better choice in any event), but that doesn't take away from their fey period charm. Nicola and Jansch's 1969 release, Birthday Blues, were combined onto one CD on a 1993 reissue.
- Richie Unterberger (AMG)
Track Listing
1. Go Your Way My Love (Briggs/Jansch)
2. Woe Is Love My Dear (Jansch)
3. Nicola (Jansch)
4. Come Back Baby
5. Little Sweet Sunshine (Jansch)
6. Love Is Teasing
7. Rabbit Run (Jansch)
8. Life Depends on Love (Jansch)
9. Weeping Willow Blues
10. Box of Love
11. Wish My Baby Was Here
12. If the World Isn't There

Bert Jansch - Guitar and Vocals.
Artist Gig Guide
Click on the links below to see an accurate gig guide of the following artists.
John Martyn