Bert Jansch Down Under
Castle CMRCD022 (2001)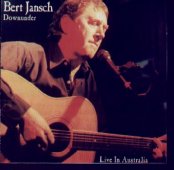 Album available as:-
(Castle CMRCD022)
Recorded at the Continental Cafe March 1998. Bert showing the Aussie how it's done.


Track Listing
Blues Run The Game (Frank)
Come Back Baby (Davis)
The Lily Of The West (Trad/Arr, Jansch)
Paper House (Jansch)
Toy Balloon (Jansch)
My Donald (Hand)
Born And Bred In Old Ireland (Jansch)
She Moved Through The Fair (Padraig Collom arr. Janch)
Carnival ( Frank)
Little Max (Jansch)
Strolling Down The Highway (Jansch)
Angie (Graham)
Curragh Of Kildare (Trad/Arr, Jansch)
Downunder (Jansch)
How It All Came Down (Jansch)


Bert Jansch - Guitar and Vocals
Pete Howell - Double Bass
Ian Clarke - Percussion (tracks 10,14 & 15)
Artist Gig Guide
Click on the links below to see an accurate gig guide of the following artists.
John Martyn