Live At The 12 Bar Club
Essential ESMCD921 (2000)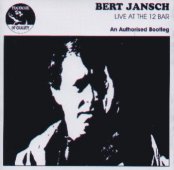 Album available as:-
(Bert Jansch Records BJ 002CD)
Recorded live at the12 Bar club in London where Jansch once held a local residency. Retailers complained about this album because the barcode would not scan properly. The only other release on Jansch's short lived record label. The other being "Moonshine" BJCD 001.


Track Listing
1. Summer Heat
2. Curragh Of Kildare
3. Walk Quietly By
4. Come Back Baby
5. Blackwaterside (Trad. Arr. Jansch)
6. Fresh As A Sweet Sunday Morning
7. Morning Brings Peace Of Mind
8. The Lily Of The West
9. Kingfisher
10. Trouble In Mind
11. Just A Dream
12. Blues Run The Game (Frank)
13. Let Me Sing
14. Strolling Down,The Highway (Jansch)
15. A Woman Like You
16 Instrumental (Anji??)

Bert Jansch - Guitar, Vocals
* Thanks to Hugh Townley for the information.
Artist Gig Guide
Click on the links below to see an accurate gig guide of the following artists.
John Martyn