Thirteen Down
Kicking Mule KMCD3909 (1998)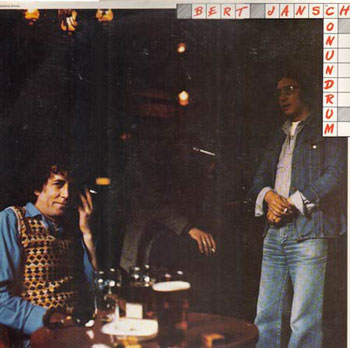 Album available as:-
(Kicking Mule KMCD3909)
Bert Jansch formed the Bert Jansch Conundrum in the late 1970s as a touring unit for his solo performances following the breakup of the original Pentangle. Thirteen Down, recorded in 1979, was the only studio album by this aggregation. Joining Jansch here are multi-instrumentalists Martin Jenkins and Nigel Portman-Smith along with drummer Luce Langridge. In addition, Jansch's Pentangle vocal mate, Jacquie McShee, guests on "If I Had a Lover." The selection of tunes offered on Thirteen Down is uniformly strong. Several tracks could best be described as "funky folk music," especially the opening instrumental, "Una Linea di Dolcezza." Other standout tracks include the accordion-drenched "Down River," "Time and Love," "In My Mind" and "Sweet Mother Earth." The blend of British Isles folk, jazz and pop will be familiar to fans of Pentangle, and Jansch's vocals and guitar work are as unique as ever. Jenkins' violin and flute provide the textural colors that keep the arrangements varied from song to song. Ranking with the best work of Bert Jansch's lengthy career, Thirteen Down is a must-have for folk and acoustic music enthusiasts.
- Jim Newsom (AMG)

Track Listing
1. Una Linea Di Dolcezza (Jansch) - 3:36
2. Let Me Sing (Jansch) - 3:00
3. Down River (Jansch) - 3:14
4. Nightfall (Jenkins) - 2:54
5. If I Had a Lover (Jansch) - 2:10
6. Time and Love (Jansch) - 3:05
7. In My Mind (Jansch) - 2:20
8. Sovay (Traditional) - 3:40
9. Where Did My Life Go (Jansch) - 2:53
10. Single Rose (Jansch) - 2:47
11. Ask Your Daddy (Jansch) - 2:55
12. Sweet Mother Earth - 3:47
13. Bridge (Jansch/Jenkins) - 2:32




Bert Jansch - Guitar, Vocals
Artist Gig Guide
Click on the links below to see an accurate gig guide of the following artists.
John Martyn