Bert Jansch / It Don't Bother Me
Essential Records ESM407 (1996)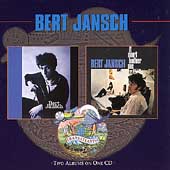 Album available as:-
(Essential Records ESMCD407 )
Recorded with a portable tape player on a borrowed guitar in the kitchen of his London flat, the impact of Jansch's debut has been somewhat blunted by time, but it was a vastly influential work. All but one of the 15 tracks on his debut was an original composition; Jansch sounds quite close to early Donovan with his Scottish inflections, though Bert is darker and less pop-oriented. Jansch reflects a rambling, beatnik sort of lifestyle with his compositions on this album, which includes one of his most famous tunes, the somber "Needle of Death" (about the heroin-induced death of one of his friends). Basically an extension of his 1965 debut, Jansch's second album It Don't Bother Me - also on this two-fer - is perhaps a bit lighter in mood and doesn't boast quite as strong material, although it's nearly in the same league. Includes one of his most explicitly political songs ("Anti-Apartheid"), his first recording with John Renbourn ("Lucky Thirteen," a Renbourn original), and his first use of banjo on record ("900 Miles").
- Richie Unterberger (AMG)
Track Listing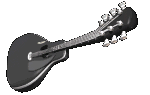 Click on the guitar to hear tracks. (RealAudio / Windows Media Player)
(Can't hear anything? Click here for help.)
1. Strolling Down The Highway
2. Smokey River
3. Oh How Your Love Is Strong
4. I Have No Time
5. Finches
6. Rambling's Going To Be The Death Of Me
7. Veronica
8. Needle Of Death
9. Do You Hear Me Now?
10. Alice's Wonderland
11. Running, Running From Home
12. Courting Blues
13. Casbah
14. Dreams Of Love
15. Angie
16. Oh My Babe
17. Ring-a-Ding Bird
18. Tinker's Blues
19. Anti-Apartheid
20. The Wheel
21. A Man I'd Rather Be
22. My Lover
23. It Don't Bother Me
24. Harvest Your Thoughts Of Love
25. Lucky Thirteen
26. As The Day Grows Longer
27. So Long (Been On The Road So Long)

Bert Jansch -Guitar, Vocals
Artist Gig Guide
Click on the links below to see an accurate gig guide of the following artists.
John Martyn