Moonshine
Bert Jansch Records BJ001CD (1995)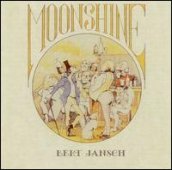 Album available as:-
(Bert Jansch Records 001, 1995)
Even when performing with others, Bert Jansch has always continued his solo career. Moonshine was recorded in 1972 and released in 1973, and while it gained little attention at the time, it is greatly superior to later Pentangle efforts like Reflection. The arrangements are fuller than on his earlier solo work and more varied than Pentangle's, creating a distinct folk-rock sound. There are violins, harps, harmonicas, and even electric guitar. Things get started with the traditional "Yarrow," highlighted by a lovely flute, and brought to fullness by Jansch's deep vocals and acoustic guitar. Tony Visconti's bass work and Dave Mattacks' percussion build a sturdy bottom end that perfectly underlines the other players. The original "Night Time Blues" receives a nice boost from Aly Bain's fiddle, while "Oh My Father" is tinted with Gary Boyle's stinging guitar. Ralph McTell adds bluesy harmonica to "Brought With the Rain," and Jansch strips things down to voice and guitar for "Twa Corbies." In fact, there are no bad cuts here. Jansch is in great voice throughout this project, and sings all except one cut alone. His duet with Mary Visconti on "The First Time Ever I Saw Your Face" is fascinating. Her alto voice, like Jacqui McShee's, offers a perfect contrast to Jansch's deeper pipes. The arrangement is also intriguing, allowing Visconti to enter each stanza half a step behind Jansch, overlapping with the same lyrics. Danny Thompson produced the album, lending a hand to its beautiful, dense sound. For Jansch, Pentangle, and folk-rock fans, Moonshine will be a real find.
- Ronnie Lankford Jr. (AMG)
Track Listing

1. Yarrow (traditional arr. Jansch) - 5:09
A beautiful performance of a traditional song. A lady is courted by nine gentlemen and a ploughboy. They fight for her favours and the ploughboy wins, then her brother murders him.
2. Brought With The Wind (Jansch/Traditional) - 2:55
A traditional tune with lyrics by Jansch.
3. The January Man (Goulder) - 3:31
The only track on the album that isn't traditional or Jansch, this one is written by Dave Goulder.
4. Night Time Blues (Jansch) - 7:14

5. Moonshine (Jansch) - 4:56
One of many wonderful Jansch tracks. The musings of a prisoner who was forced to fight for a cruel master and is now left to rot in a dungeon.
6. The First Time Ever I Saw Your Face (Ewan McColl) - 3:00
Bert obviously likes this song - he also played an instrumental version on his Jack Orion album.
7. Rambleaway (traditional arr. Jansch) - 4:35
8. Twa Corbies (traditional arr. Jansch) - 3:00
The best rendition I have ever heard of the song that was done to death by the finger-in-the-ear singers in the sixties revival.
9. Oh My Father (Jansch) - 4:07
Bert Jansch - Guitar & Vocals