Nicola / Birthdays Blues
Demon TDEMCD17 (1993)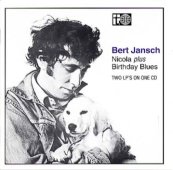 Album available as:-
(Demon TDEMCD17)



Buy it now!
This is one of those cases where record companies vandalise an artist's work. This CD has two albums on it - and the tracks are mixed up. One of the albums is the early, gritty, bluesy Jansch at his best. The other is a ghastly collection of what must be all of Bert's worst tracks with a heavy, slushy orchestral backing. It would have been best to leave the rubbish in the vault but if they had to put the two together they could have kept the tracks in order so you could enjoy the good stuff.
Even though there are diamonds in the form of a couple of Anne Briggs songs and a bunch of quality Jansch blues tracks I can't bear to put this CD in the machine.
Track Listing
1. Go Your Way My Love
2. Woe Is Love, My Dear
3. Nicola
4. Come Back Baby
5. A Little Sweet Sunshine
6. Love Is Teasing
7. Rabbit Run
8. Life Depends On Love
9.Weeping Willow Blues
10. Box Of Love
11. Wish My Baby Was Here
12. If The World Isn't There
13. Come Sing Me A Happy Song To Prove We Can All Get Along The Lumpy, Bumpy, Long And Dusty Road

14. The Bright New Year
15. Tree Song
16. Poison
17. Miss Heather Rosemary Sewell
18. I've Got A Woman
19. A Woman Like You
20 I Am Lonely
21. Promised Land
22. Wishing Well
23. Blues


Bert Jansch - Guitar, Vocals
Artist Gig Guide
Click on the links below to see an accurate gig guide of the following artists.
John Martyn