From The Outside
Hyperion HY200128 (1993)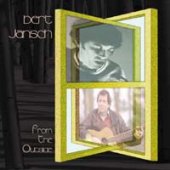 Album available as:-
(Castle CMRCD170)

"Towards the end of 1985 a solo album called From the Outside appeared, but only just. Cobbled together from sessions in Denmark and London, with unsympathetic engineers and featuring only guitar and voice, it was Bert's rawest and most cathartic work since Bert Jansch twenty years earlier. It slipped out on the tiny Belgian label Konexion in a pressing of only five hundred copies, and a greater contrast to Heartbreak would be hard to imagine. But this time it really was heartbreak. Remixing the album for CD some years later, with a few losses and additions in tracks, Bert added revealing notes on the material. A 'new' track from the original sessions, 'Blackbird In The Morning', a serene love song redolent of James Taylor, was restored to the album and lends a degree of balance. For this was an album adrift on a sea of melancholy, clearly the work of an artist weighed down by the woes of the world."
"Bert's conversion from technological luddite to digital self-sufficiency had been a reaction to the indifference he had experienced at the hands of those who had engineered From the Outside in the mid-eighties. Never again would he put himself in that situation: he would continue to use studios, when the nature of the work demanded it, but for guitar/vocal work and demos of more elaborate conceptions he would have no reason to leave the flat".
"The newly remixed version of From the Outside slipped into Britain via Hypertension during 1993's mid-summer flurry of Jansch product. It's representing allowed for the inclusion of two genuinely new tracks, the first to be recorded at home".
-Dazzling Stranger - Bert Jansch and the British Folk and Blues Revival
by Colin Harper
Track Listing
1. From The Outside
2. Change The Song
3. Read All About It
4. Shout
5. Ah Sure Wanna Know
6. Time Is An Old Friend
7. If You're Thinking 'Bout Me
8. Silver Raindrops
9. Still Love Her Now That She's Gone
10. Get Out' My Life
11. Sweet Rose
12. Blues All Around Me
13. From The Inside



Bert Jansch - Guitar and Vocals.
Artist Gig Guide
Click on the links below to see an accurate gig guide of the following artists.
John Martyn