Three Chord Trick
Virgin Universal CDVM9024 07777 (1993)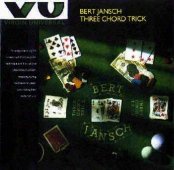 Album available as:-
(Virgin Universal CDVM9024 07777)

Released on the Virgin Universal lable with those loverly long codes.
Track Listing
1. Fresh As A Sunday Morning
2. Chambertin
3. One For Jo
4. Needle Of Death (Jansch)
5. Cluck Old Hen
6. Love Anew
7. Lost And Gone
8. Blues Run The Game (Frank)
9. When The Teardrops Fell
10. Kingfisher
11. Daybreak
12. Doctor, Doctor
13. Curragh Of Kildare
14. Looking For A Home
15. Poor Mouth
16. In The Bleak Midwinter



Bert Jansch - Guitar, Vocals
Artist Gig Guide
Click on the links below to see an accurate gig guide of the following artists.
John Martyn