The Ornament Tree
Run River RRACD0012 (1990)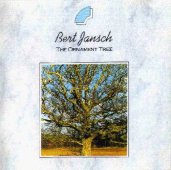 Album available as:-
(Castle CMRCD111)
As Colin Harper points out in the liner notes, Bert Jansch has sometimes been viewed as folk hero from yesteryear. He argues that Jansch has continued to be an important voice in contemporary folk, and that The Ornament Tree, recorded in 1990, is worthy of his early- to mid-'70s work. While it may be a stretch to compare it to a great album like 1973's Moonshine, there is little doubt that Jansch continues to be a vital artist. The overall sound of The Ornament Tree is quite uniform, filled with Celtic fiddles and flutes, and the song choices are a nod toward tradition. Ballads like the title cut and "The Rambling Boys of Pleasure" tell tales of lost love and warn of the pitfalls of roving, while "The Dreamers" is a wistful salute to the romantics of the world. The evocative "The Mountain Streams" conjures up the magic of a forest and a mysterious love, of two strangers who meet, part, and agree to meet again in another season. Jansch is in good voice throughout, and his guitar work is excellent as always. The supporting players provide sympathetic accompaniment and top-notch solo work throughout the album. Two instrumentals, "The Rocky Road to Dublin" and "Lady Fair," have been included. The first features the lovely fiddle of Peter Boyle and the latter, the superb whistle playing of Maggie Boyle. The production by Michael Klein has taken the rougher edges from the acoustic instruments, smoothing out the overall sound. This approach gives the album a more contemporary feel. For Jansch fans, or for those who love good acoustic music with a Celtic twist, The Ornament Tree will be a satisfying album.
- Ronnie Lankford, Jr. (AMG)
Track Listing
1. The Ornament Tree (Traditional) - 3:50
2. The Banks O'Sicily (Henderson/Robertson) - 3:33
3. The Rambling Boys of Pleasure (Traditional) - 4:40
4. The Rocky Road to Dublin (Traditional) - 2:58
5. Three Dreamers (Traditional) - 3:46
6. The Mountain Streams (Traditional) - 3:49
7. The Blackbirds of Mullamore (Traditional) - 4:47
8. Ladyfair (Traditional) - 2:15
9. The Road Tae Dundee (Traditional) - 4:07
10. Tramps and Hawkers (Traditional) - 3:15
11. The January Man (Goulder) - 3:42
12. Dobbins Flowery Vale (Traditional) - 3:33



Bert Jansch - Guitar, Vocals
Artist Gig Guide
Click on the links below to see an accurate gig guide of the following artists.
John Martyn