Heartbreak Hotel
Hannibal HNCD 1312 (1989)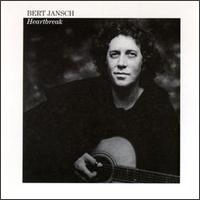 Album available as:-
(Hannibal HNCD 1312)
Do you know anything about this album and can write a short review? Email webmaster.
Track Listing

1. Is It Real?
2. Up to the Stars
3. Give Me the Time
4. If I Were a Carpenter (Hardin)
5. Wild Mountain Thyme
6. Heartbreak Hotel (Axton/Durden/Presley)
7. Sit Down Beside Me
8. No Rhyme nor Reason
9. Blackwaterside (Traditional)
10. Not a Word Was Said
Bert Jansch - Guitar and Vocals.
Artist Gig Guide
Click on the links below to see an accurate gig guide of the following artists.
John Martyn