Leather Laundrette
Black Crow CRO218 (1988)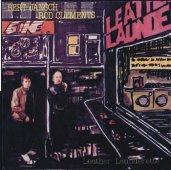 Album available as:-
(Black Crow CRO218)
Released in March 1988 Bert had little or no new material ready for this album so Ron Clemets fronted with several country blues covers. There is also a revamping of "Strolling Down The Highway" plus two songs first heard on "From The Outside", an album so pitiful neglected that he was still trying to salvage something from the wreckage.
Track Listing
1. Strolling Down The Highway
2. Sweet Rosie
3. Brafferton
4. Ain't No More Cane
5. Why Me
6. Sundown Station
7. Knight's Move
8. Brownville
9. Bogie's Bonnie Bell
10. Leather Launderette
11. Been On The Road So Long



Bert Jansch - Guitar, Vocals
Ron Clemets - Guitar
Artist Gig Guide
Click on the links below to see an accurate gig guide of the following artists.
John Martyn