Strolling Down The Highway - Bert Jansch Essential Collection Vol 1
Transatlantic TRA604 (1987)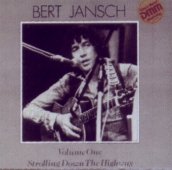 Album available as:-
(Transatlantic TRA604)
It was to be the first of two but TRA 607 Black Water Side -The Bert Jansch Essential Collection Vol 2, scheduled for release was never released.
* Thanks to Hugh Townley (Janschophile) for the information.
Track Listing

1. Strolling Down The Highway (Jansch)
2. Running, Running From Home
3. Oh How Your Love Is Strong
4. Needle Of Death (Jansch)
5. Tinker's Blues
6. Courting Blues (Jansch)
7. As The Day Grows Longer Now
8. Wheel
9. It Don't Bother Me (Jansch)
10. Gardener
11. 900 Miles
12. In This Game
13. Casbah
14. Veronica (Jansch)
15. Nottamun Town
16. Go Your Way My Love
17. Love Is Teasing
18. I Have No Time
19. Ring A Ding Bird
20. I Am Lonely

Bert Jansch - Guitar and Vocals.
Artist Gig Guide
Click on the links below to see an accurate gig guide of the following artists.
John Martyn