Just Guitars
CBS 25946 (1984)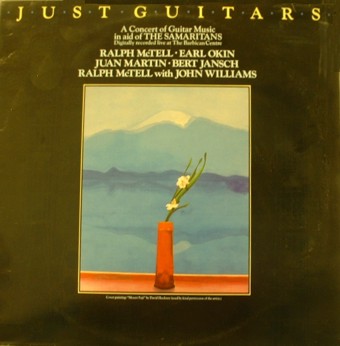 Album available as:-
(CBS 25946)
A concert of guitar music in aid of The Samaritans digitally recorded live at The Barbican Centre (18 December 1982).
Track Listing

1. Untitled
2. If I Could Be With You One Hour Tonight (Okin)
3. Mango (Okin)
4. Desire Caught By The Tail (Martin)
5. Weeping Woman (Martin)
6. Choro (Duet, Okin, Martin)
7. One Scotch, One Bourbon, One Beer (Jansch)
8. Is It Real (Jansch)
9. Anji (Graham)
10. Mrs Connaughton (McTell)
11. Song For Martin (McTell Williams)
12. Streets Of London (McTell Williams)


Note: Where I have put the artists name in brackets, this represents who is actually playing on the track, not who wrote it.
Ralph McTell
John Williams
Juan Martin
Earl Okin
Artist Gig Guide
Click on the links below to see an accurate gig guide of the following artists.
John Martyn