Poor Mouth
ExLibris EXL20011 (1976)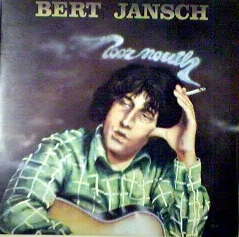 Album available as:-
(ExLibris EXL20011)
A rare Danish LP with four tracks which don't appear on any other Jansch
album.
Track Listing
1. Poor Mouth
2. St Fiacre Revenge
3. Dragonfly
4. Pretty Saro
5. Doctor Doctor
6. Lost love
7. Candy Man
8. Daybreak
9. One To A Hundred
10. Three Dreamers
11. Pers Hose Pipe
12. Curragh of Kildare
13. If You See My Love
14. Three Chord Trick


Bert Jansch - Guitar and Vocals.
Artist Gig Guide
Click on the links below to see an accurate gig guide of the following artists.
John Martyn