Santa Barbara Honeymoon
Charisma CAS1107 (1975)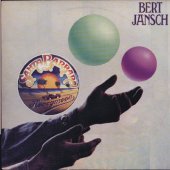 Album available as:-
(Charisma CAS1107)
Released in October 1975 Santa Barbara Honeymoon received mixes reviews by the critics. Some said it was simply not Bert Jansch, while others were in sheer astonishment. Bert says "Some of the songs are among the best I have written. I still stand by them" 'Lost And Gone', an oil exploration and the 'Shetland Isles' ecology, remains a work of rare power. Apparently a producer by the name of Danny Royce Lane was pulled in to give the album a commercial feel. Whether or not this was a good thing at the time, no one will know. The album was dedicated to a TV producer Tisha Fine who Bert was seeing at the time. After a short time Bert was back in the UK living in Putney by himself.
Track Listing
1. Love A New
2. Mary And Joseph
3. Be My Friend
4. Baby Blue
5. Dance Lady Dance
6. You Are My Sunshine
7. Lost And Gone
8. Blues Run The Game (Frank)
9. Built Another Band
10. When The Teardrops Fell
11. Dynamite
12. Buckrabbit
Bert Jansch: guitar, piano, vocals
James Baker: guitar, vocals
David Barry: keyboards
Craig Buhler: horn
Beth Fitchet: vocals
James Gordon: horn
Robert Greenidge: drums
David Hungate: bass, horn
Tris Imboden: drums
Jay Lacy: guitar
Danny Lane: bass
Darrell Leonard: horn
Ernie McDaniels: bass
Ron McGuire: vocals
George Seymour: keyboards
Don Whaley: bass, vocals
Steve Wood: vocals
William Smith: keyboards
Artist Gig Guide
Click on the links below to see an accurate gig guide of the following artists.
John Martyn