L.A Turnaround
Charisma CAS1090 (1974)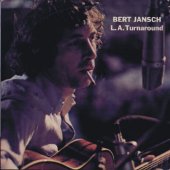 Album available as:-
(Charisma CAS1090)
Released in September 1974 LA Turnaround remains one of Jansch's strongest and most accessible. In the space of a weekend six of the tracks were recorded in the house of Tony Stratton Smith (Charisma Records), two in the garden and four indoors, the rest in the studio. The method of recording, entirely live with no overdubs as opposed to the piece-by-piece assemble of tracks that had characterised Pentangle sessions, was refreshing. One track per day, all bar two traditional songs and a Renbourn instrumental being Jansch originals. The most surprising, a re-recording of 'Needle Of Death' "I never did like the original recording at the time" says Bert not long after his return from California.

Track Listing
1. Fresh as a Sweet Sunday Morning
2. Chambertin
3. One for Jo (Jansch)
4. Travelling Man
5. Open up the Watergate (Let the Sunshine In)
6. Stone Monkey
7. Of Love and Lullaby
8. Needle of Death (Jansch)
9. Lady Nothing
10. There Comes a Time
11. Cluck Old Hen
12. Blacksmith
Bert Jansch Guitar All tracks
Vocal All Tracks except 2 & 9
Klause Voorman Electric Bass Tracks 1, 5, 6, 7, 10, 11 & 12
Red Rhodes Pedal Steel Guitar Tracks 1, 4, 6, 8 & 10
Jesse Ed Davis Guitar Track 5
Danny Lane Drums Tracks 5, 6 & 12
Mike Nesmith Guitar Tracks 6, 10 & 11
Jay Lacy Guitar Track 7
Byron Berline Fiddle Track 11
Mandolin Track 11
Mike Cohen Electric Piano Track 12
Artist Gig Guide
Click on the links below to see an accurate gig guide of the following artists.
John Martyn