Box Of Love - The Bert Jansch Sampler Vol:2
Transatlantic TRA027 (1972)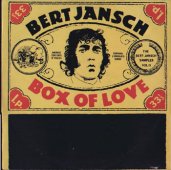 Album available as:-
(Transatlantic TRA027)
On this collection of highlights, from the British folk artist's Transatlantic years, there is a cohesion that suggests it could have an album in its own right. Of the many Bert Jansch samplers and best ofs that have surfaced over the years, Box of Love is the album highly recommended to those new to the great Anglo songwriter and interpreter. While it does not contain career highlights "Blackwaterside," "Jack Orion," or "Needle of Death," three songs that put him on the map as one of the foremost British folk revival artists, the album contains the previously unreleased "In This Game," which is surely as greater animation of anguish one will ever hear. Elsewhere, instrumentals "The Gardner" and Casbah take his guitar style into the realm of his fantastic interpretation of Davy Graham's "Angie." This song may have been the beginning of Jansch's career, and the album credits it as the prime influence on his guitar playing overall. Accompanied by a stellar cast of individuals, longstanding collaborator John Renbourn takes the seat of sideman on some of the tracks. Martin Jenkins and Ray Warleigh add flute, mandolin, and viola respectively, but, aside from these small embellishments, we have pure Bert Jansch at his best throughout, alone with guitar and voice.
- Sylvie Harrison (AMG)
Track Listing
1. Oh How Your Love Is Strong 3:34 (TRA125)
2. In This Game 4:12 (Previously Unissued)
3. The Gardener 1:40 (TRA143)
4. Soho 3:03 (TRA144)
5. I am Lonely 2:25 (TRA179)
6. Peregrinations 1:44 (TRA235)
7. Casbah 2:03 (TRA125)
8. Dissatisfied Blues 3:50 (Previously Unissued)
9. As The Day Grows Longer Now 3:36 (TRA132)
10. Box of Love 1:58 (TRA157)
11. Birthday Blues 1:09 (TRA179)
12. Nobody's Bar 2:58 (TRA235)

Bert Jansch - Guitar & Vocals
Artist Gig Guide
Click on the links below to see an accurate gig guide of the following artists.
John Martyn