Rosemary Lane
Nipon Columbia YS7054LA (1971)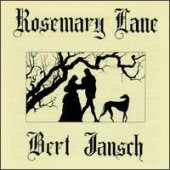 Album available as:-
(Castle CMRCD335 )
Although rated very highly by many Jansch fans, Rosemary Lane isn't quite as striking as his best albums of the '60s. It's more of a delivery of all the attributes listeners had come to expect of him by 1971 - excellent acoustic guitar work, imaginative interpretations of traditional material and well-constructed originals in the same vein, and committed vocals - than a step forward, or even sideways. It's perhaps one of his more low-key efforts, both in the sparse arrangements and the subdued tone. It's certainly a worthy effort on its own terms, even if it's largely a restatement of already visited themes.
- Richie Unterberger (AMG)
Track Listing
1. Tell Me What is True Love? (Jansch) 1:57
2. Rosemary Lane (Traditional arranged, Jansch) 4:06
3. M'lady Nancy (Jansch) 2:34
4. A Dream, a Dream, a Dream (Jansch) 2:39
5. Alman (Johnson) 1:22
6. Wayward Child (Jansch) 2:03
7. Nobody's Bar (Jansch) 3:00
8. Reynardine (Traditional arranged, Jansch) 5:30
9. Silly Woman (Jansch) 3:17
10. Peregrinations (Jansch) 1:47
11. Sylvie (Traditional arranged, Jansch) 4:33
12. Sarabanda (Correlli) 1:34
13. Bird Song (Bert Jansch) 3:00


Bert Jansch - Guitar, Banjo & Vocals
Artist Gig Guide
Click on the links below to see an accurate gig guide of the following artists.
John Martyn