From Occident to Orient
Vinyl Japan JASKCD186 (2007)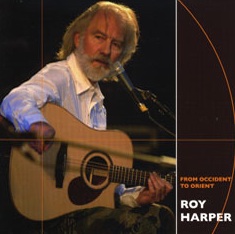 Album available as:-
(Vinyl Japan JASKCD186)

Japanese export. Collectors Item. Licensed tracks released by Vinyl Japan at the time of Roy's visit to Tokyo. This is a compilation and not recorded live in Tokyo.
Track Listing:
1. Blackpool (Harper)
2. Francesca (Harper)
3. Another Day (Live) (Harper)
4. Miles Remains (Live) (Harper)
5. Wishing Well (Harper)
6. Frozen Moment (Harper)
7. How Does It Feel (Harper)
8. Pinches of Salt (Harper)
9. Elizabeth (Harper)
10. Rushing Camelot (Harper)
11. The Green Man (Harper)
12. One of Those Days In England (Harper)


Roy Harper: Guitar & Vocals.