Death Or Glory?
Science Friction HUCD012 (1994)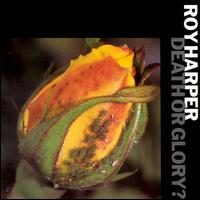 Album available as:-
(Science Friction HUCD012)
I used to think that Death or Glory was the motto of the Gloucester Regiment in the British Army. I have since been corrected by various ex-members of various other regiments and concerned folks, and it would appear that my memory is playing tricks with me. About which I am completely horrified. As per usual. When I was 11 years old, or thereabouts, I think.... that I heard about a private soldier by the name of Shephard who was awarded the VC for single-handedly holding off a Chinese offensive in the middle of the night with a gun and a box of hand grenades.
The fact that he was drunk at the time and was obviously out on a lone spree to cause some noise at the top of the hill when he surprised the Chinese army, and himself, made him a pretty big news item for a week or two. The sound of hostilities woke the British army, who got out of bed and joined the battle... or so I seem to remember the story went. This all occurred during the Korean War in about 1952. There was also another story to the effect that this particular soldier was promoted to sergeant and then bust back down to private again. The remaining fragment of 'memory' is that he was perhaps a member of the Gloucester Regiment. The only other fact worth bringing up at this point is that I used to drink in a pub called The Glorious Gloucesters, which is perhaps the most telling piece of memorablia.
It would seem by consensus that the motto and skull and crossbones belongs to the Queens Royal Lancers, The Tank Regiment. Or the 17th/21st Lancers. There was also some talk of a Lancashire regiment with some similar motto. Then someone handed me the 'black spot' on a folded page of the bible... Very soon after that Long John Silver appeared and I woke up quickly.
I will probably be corrected on all of this in the fullness of time, and I'll suddenly remember more... or less.. and feel some contrition... and be unable to alter it again until the site is updated again, when I remember again... in 2111.
However, I used this motto as the title to this album because it is the way that I felt at the time. I had had a relationship of ten years with a lady whom I really loved more than my own life. When I lost her in 1992, it did seem for a long time that I had lost my life along with her.
As we are all aware, this kind of thing affects some people more than others, but I hadnít got a clue as to the real depth and longevity of sorrow that I was about to experience. It didnít seem to matter what I did, or how hard I tried to forget, it was still with me every day.
It was there because of me, it was there in spite of me, it was there alongside me, it was there in the mirror, it was there in my sleep. There was nowhere for me to hide. Eventually I had to seek professional advice and eight+> years later, I am very pleased to be able to say that I have been able to do some real healing and re-thinking. Deja vu!
The record that I made at the beginning of this period is a great record; in disguise. It has been re-mastered, and is perhaps the better for it. ëThe Fourth Worldí has been re-mixed with better drums by Steve Barnard.
The love songs, although on the sad side, will be difficult to better. It is a different record than it used to be. The subtraction of the more self-indulgent sadder tracks has made it perhaps a friendlier record and the addition of 'The Methane Zone' has debunked it somewhat. I don't know that I wanted exactly that, but I didn't want to be down any more, or leave it hanging around on the pavement like it was still steaming.
- Roy Harper
Track Listing:
1. Death or Glory (Harper) - 5:05
2. The War Came Home Tonight (Harper) - 4:22
3. Duty (Harper) - 1:26
4. Waiting for Godot Part Zed (Harper) - 3:29
5. Next to Me (Harper) - 3:17
6. The Methane Zone (Harper) - 3:35
7. The Tallest Tree (Harper) - 4:52
8. Miles Remains (Harper) - 8:52
9. The Fourth World (Harper) - 7:22
10. Why? (Harper) - 0:44
11. Evening Star (Harper) - 6:04
12. Cardboard City (Harper) - 3:24
13. One More Tomorrow (Harper) - 5:22
14. On Summer Day (Harper) - 5:40



Roy Harper - Guitar, Vocals