Stormcock
Awareness AWCD 2001 (1990)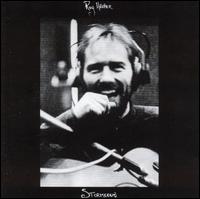 Album available as:-
(Science Friction HUCD004)
The consensus of opinion regarding my recording career is that 'Stormcock' is my best record. Sometimes I disagree, mainly because in my own mind there would seem to be more mature things like HQ, Bullinamingvase, Jugula and Once, all recorded at later dates.
'One Man Rock and Roll Band' and 'The Same Old Rock' have been recorded live at later dates equally well.
Never the less, Stormcock is some kind of peak in the Harper range. It was made at EMI Abbey Road Studios and was the first record that I really spent time making. Attention to detail became important.
The record was made in the era when I still wasn't used to buying too many guitar strings and I can remember blagging at least three from Hank Marvin who was in studio three with Cliff and the boys. Bruce always used to say hello, but Cliff never seemed to want to acknowledge my existence! I must have seemed like the beaming anti-christ. Far too happy.
Pete Jenner and I turned out a great record. Seems like a thousand years ago now. Though I very rarely listen to my own records I would definitely say that my personal highlight on the record is Jimmy Page's guitar solo on 'The Same Old Rock.' My opinion has not changed since the day he put it on there. Absolutely brilliant. The arrangement on 'Me And My Woman' is by David Bedford.

- Roy Harper
With only four tracks (three of which are quite long), this is Harper's most serious, focused work. Not as melancholy as Nick Drake, it has a similar moody appeal and features lots of fine acoustic guitar work. "The Same Old Rock" feature virtuosic acoustic lead from none other than Jimmy Page (playing under the pseudonym S. Flavius Mercurius), and one can detect Harper's influence in the acoustic-oriented Led Zep recordings of the early '70s.
- Richie Unterberger (AMG)
Track Listings:
1. Hors D'ouvres (Harper) - 8:37
2. The Same Old Rock (Harper) - 12:24
3. One Man Rock & Roll Band (Harper) - 7:23
4. Me and My Woman (Harper) - 13:01


Roy Harper - Guitar & Vocals
Jimmy Page - Lead Guitar (Track 2)