Comercial Breaks
Harvest SHSP 4077 (1977)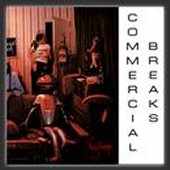 Album available as:-
(Science Friction HUCD016)
Commercial Breaks' made in pecuniary retrenchment and emotional uncertainty at the end of the 1970s, beginning of the 1980s. The album was made with EMI, (in name, but not in fact). The story has it's ups and downs and is more fully told in the books relating to my life's work at present being prepared by Opher Goodwin. Suffice to say that the album was made at the point at which I fell out with EMI, and they with me.
There was a wholesale scramble to meet deadlines which came and went with no attempt on their part to remember anything beyond the Jurassic, with seemingly matching brain sizes.
As a result the record was wrenched around and was eventually held by them for three years during the dispute. At the end of which my disenchantment was cast in stone. Politics became more important than writing or recording, and it showed!
All this was held at the sluice gates until the album seemed to be centuries old; and I had moved on into a different life. So; it was never released by EMI, and belatedly released by us in dribs and drabs some years later. When all's said and done 'Commercial Breaks' was only a demo. Made in demo studios.
Plus and minus a combination of various parts of 'Commercial Breaks' was released at one time under the title of 'Loony on the Bus'. This album has long since been deleted, and these two albums have now been released together.
The band on this record were known as Black Sheep and included Andy Roberts, Henry McCullough, Dave Lawson, Dave Cochran and John Halsey. Dave Cochran was a survivor from Trigger, which was the band that made 'HQ'

- Roy Harper
Track Listing:
1. My Little Girl
2. I'm In Love With You
3. Ten Years Ago
4. Sail Away
5. I Wanna Be Part Of The News
6. Cora
7. Come Up And See Me
8. The Fly Catcher
9. Too Many Movies
10. Square Boxes



Roy Harper - Guitar, Vocals