Come Out Fighting Ghengis Smith
CBS SBPG63184 (1968)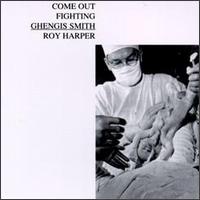 Album available as:-
(Science Friction HUCD006)
In the past I have tended to berate this record because I have felt that it was made too quickly on a tight budget, but I have now got to like it from a distance. There was some rumour put around a little while ago that I wasn't very pleased with what Shel Talmy (the producer) had done with it. This is certainly not what I would have wanted Shel to believe.
At face value he did a good job with material that is not that easy, and I now look back on the sessions with a certain affection. Besides, making enemies out of friends should be left to the music media, where it belongs.
There are enough relevant statements on board for me to really love it in another twenty years.
- Roy Harper
On Harper's second album (and first for a major label), he strode further into folk-rock as opposed to folk, with sympathetic production from Shel Talmy; there was light electric backing and drums, as well as occasional orchestration. Harper remained, however, overly verbose, his observational lyrics tending to jam too many thoughts into too little time. Often this is stream-of-consciousness song writing, proving that such a strain existed in alternative rock long before Jandek and Lambchop's Kurt Wagner. Harper is far more tuneful, and a much better singer and instrumentalist, than either Jandek or Wagner, which makes this much more accessible on a surface level. Still, it's music that demands a lot of concentration to apprehend, and ultimately doesn't fully reward the effort, the listener's attention tending to drift off amidst Harper's inscrutability. Far be it from a mere critic to suggest such a thing decades after the fact, but it may have been that Harper could have well done with a song writing collaborator who could have extracted Roy's most coherent ideas, and sanded off the most incoherent ones. Especially befuddling are the epic-length cuts ("Circle" and the title track), which seem to wish to be making a grand point, but are only intermittently interesting winding roads, the pseudo-humorous spoken dialogue in "Circle" falling especially flat. He is best when he is most restrained, as on "All You Need Is" and "What You Have." The CD reissue on Science Friction adds seven bonus tracks. Two are from his 1969 album Folkjokeopus; two are from a 1967 single that is only marginally more commercial than the album; and the remaining three are from 1969-70 BBC sessions.
- Richie Unterberger (AMG)
Track Listing:
1. Freak Sweet
2. You Don't Need Money
3. Ageing Raver
4. In a Beautiful Rambling Mess
5. All You Need Is
6. What You Have
7. Circle
8. Highgate Cemetery
9. Come Out Fighting Genghis Smith
10. Zaney Janey *
11. Ballad Of Songwriter *
12. Midspring Dithering *
13. Zenjem *
14. It's Tomorrow And Today Is Yesterday *
15. Francesca *
16. She's The One *
* Bonus Tracks only on Science Friction HUCD006


Roy Harper - Guitar, Vocals