Midnight Man
Fledgling Records FLED3055 (2005)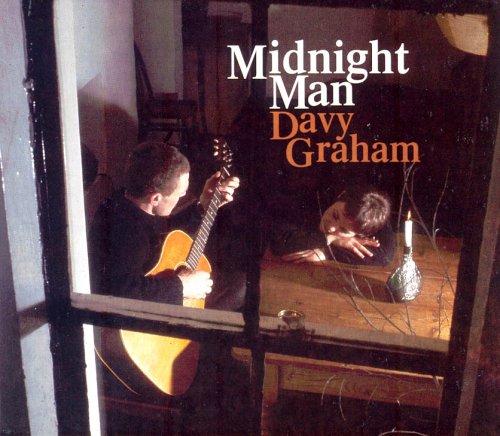 Album available as:-
(Fledgling Records FLED3055)
A great remaster from the original tapes by Fledgling Records.
When Davy Graham's previous album, "Folk Blues and Beyond…", was issued by Decca in 1964, it collected praises from many people and for many different reasons. The Folk press (almost to a critic) hailed its release as an event of major importance; but then, so did most of the Rhythm and Blues publications. Guitarist brought it, listening to the solos and accompaniments with considerable excitement - and some of the even began to follow Davy around, studying his methods and technique. (So far being able to emulate him). Meanwhile, copies of the record were usually to be found lying in the backs of those dusty, message- covered vans that beat around groups used to travel round from one job to the other. And finally, and certainly the most satisfying praise of all, a general audience of fans brought it in sufficient quantities to make the need for a second album an inevitability.
Since making the first album, Davy has been actively changing and extending himself musically - several results of which can be heard within these newer performances. He has been travelling again (to Ibiza, then through the Aegean and on to Constantinople), listening carefully to all the musical sounds en route. He has been deeply engrossed in the writings of Ouspensky. And - in bizarre contrast - he has been experimenting with an amplifier to put a different sound in to two or three of his solos. Also, he has been absorbing some unusual (for him, at least) sources of inspiration (i.e. The Beatles, Oscar Brown, Jnr. and Jimmy Hughes), lettings his own imagination first of all combine with, and then gradually take over from and initial curiosity. I think such involvements have been, if somewhat surprisingly, a great success; as have his experiments with conventional blues and modern jazz pieces, and - of course - the incredible excursion with Lalo Schifrin's "The Fakir", which seems fairly certain to be the instrumental 'hit' on this album… just as "Maajun" was on his previous one. If anything and in conclusion, I would say that the second Davy Graham album (here enclosed) is more extrovert and more aggressive, musically, than the first one was; although I realise that this could be the logical result of his increased experience and growing maturity as an artist. However, I don't believe it will disappoint any of his original fans; and it ought to bring him plenty of new ones…together with several more guitarists who want to know how to manage to do all he does during "The Fakir"!

-Ray Horricks 1966 (From original LP sleeve)
Track Listing:
1. No Preacher Blues (Graham)
An up-tempo blues composed by Davy himself. The lyric contains an element of protest, but -as the author points out - this is more anti-hypocrisy than anti-social.

2. The Fakir (Schifrin)
A composition by the Argentinean pianist and arranger, Lalo Schifrin… who actually wrote it while playing with the Dizzy Gillespie Sextet and later orchestrated it for Cal Tjader's "Several Shades of Jade" album. For this version, percussionist Barry Morgan used so many additional effects that he has to hang several items like the dazzling things, and there is additional fascination of Davy's unusual timing.

3. I'm looking thru you (Lennon; McCartney)
One of the lesser-known Beatles' numbers form their "Rubber Soul" collection.

4. Hummingbird (Graham)
Another original by Davy, inspired by an earlier, lost love. It has the structure of a popular song combined with a bossa nova rhythm.

5. Watermelon Man (Hancock)
Again an all-instrumental piece. Originally composed by jazzman Herbie Hancock, and later made popular by Mongo Santamaria and big-band leader, Woody Herman.

6. Stormy Monday (Arr. Graham)
Traditional slow blues.

7. Money Honey (Stone)
Davy's version of a typical rock'n'roll number, a remnant of the first Elvis Presley era.

8. Walkin' The Dog (Thomas)
Rufus Thomas' well-known R & B composition.

9. Fire In My Soul (Johnson)
A song by Blind Willie Johnson, which Davy modal arrangement has almost completely transformed.

10. Lost Lover Blues (Arr. Graham)
A traditional train-blues, but with strong folk and C & W overtones.

11. Neighbour Neighbour (Valier)
The composition of Jimmy Hughes, who achieved immense popular fame with "Steal Away". One of the best R & B numbers.

12. Jubilation (Mance)
A modern jazz composition with strong gospel roots by pianist Junior Mance.

13. Rags And Old Iron (Brown,Jnr;Curtis)
A beautiful and moving ballard by Oscar Brown Jr.

14. Jelly Roll Baker (Johnson)
A Shouted, flagweaver blues by Lonnie Johnson to finish. This piece has a lyric full of sexual innuendo.


Davey Graham – Guitar & Vocals