Folk Blues And Beyond
Topic Records TSCD820 (1964)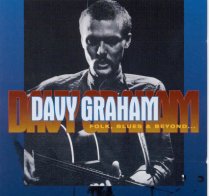 Album available as:-
(Topic Records TSCD820)
Ulysses was probably a restless man. After having fought against and finally conquered (by a trick) the city of Troy, he had a tough time getting back to his native land. And yet, reading between Homer's solemn, measured lines, one senses that the wily King actually enjoyed the many shipwrecks and chance adventures this involved. In fact, it is easy to understand the later portrait of him in Kazantzakis' sequel to "The Odyssey"; a portrait of the many becoming bored with life as a ruler of a small Greek Kingdom and no more Trojans to fight against. Finally, he abdicates in favour of his son , kisses the ever-faithful Penelope "goodbye" and sets off in search of new adventures, which take him down to the Antarctic…
The Ulysses-type is always with us. Intelligent, but foot-loose and full of curiosity about a wide variety of things, insatiable for all the experiences of living; we meet him constantly in all levels of society. However, the patterns of this twentieth century and its increasingly automatised existence have made it very for the Ulysses-type to be one in reality- and this is where an obsessive frustration creeps in…
Happily, both for himself and for his music, Davy Graham is a Ulysses-type without the frustration. A traveller (by compulsion), a panderer to his own curiosity and a natural musician with no particular problems of expression, he impresses one as being both intense and sincere in all these things. Certainly he is one of the most extraordinary artists that the world of folk has produced; the most original young guitarist in Europe, a gifted, natural arranger and singer who sings as he feels. Moreover, he is too large a personality for the folk scene to entirely contain, although he is one of its favourite sons. By this, I mean that Davy is constantly drawing other musical forms into his own orbit; blues, modern jazz, Indian and Arabic forms, and so on. All have joined the basic folk repertoire he began with, colouring his overall output in quiet a remarkable way. And because he is a traveller and curios and a musician, he is still collecting new ideas. (It's interesting to note that immediately after session, which resulted in the album, Davy began to plan a visit to Persia. One can pleasurably anticipate the results!)
Davy was born in England in 1940. His father, a Scot (from the Isle of Skye), taught Gaelic, was an amateur singer and –so Davy tells me – a considerable athlete. His mother is from Georgetown, British Guiana – and from her he inherits slight oriental and American Indian traces. He grew up mainly in England, and it was at a Kensington Lycée that he suffered the accident, which left him with only twenty per cent vision in his right eye. Since school he has lived only the itinerant musicians life…
At first, this life meant singing in cafes or at cinema queues. Later, as he became better known, it led to work in the London clubs (folk or smart-set diners), television and appearances at the Edinburgh Festival. And each year he travels…to someplace that arouses musical ideas. In Paris he played for Elizabeth Taylor as well as spending four separate night in jail for street-singing. Between Fréjus and St. Maxime he thumbed a life on a camel; the result being that he prefers air-travel these days! In Malaga he rented an expensive apartment overlooking the Mediterranean until his money ran out, then moved to a cheap room in the Moorish part and sang for his suppers. In Tangier he worked for six months in a 'hole-in-the-wall' eating-place whose specialty was a sweet, sticky cake flavoured with hashish.
Influences? A difficult one to answer, because apart from his guitar, he plays banjo, string-bass and harmonica (all with the reasonable proficiency) and is tremendously enthusiastic about good drummers and every kind of rhythm. On the folk side, he likes Jack Elliot, Darrell Adams and Bob Dylan. From the blues and rhythm-and-blues area, Leadbelly (his first influence, according to Davy?), Bill Broonzy, Robert Johnson, King Solomon Hill and Howlin' Wolf. The First jazz musician he admired was Charlie Parker, but the strongest influences appear to come from Thelonius Monk and Mingas. In addition to these, he likes girl gospel groups, Mary Wells, flamenco (Cante Hondo) and fado, Indian sitars and sarodes, Rimsky-Korsakov, Miles Davis' modal pieces, Arabic compositions and Elizabethan lute music. (Also incidentally, he studies the Koran and read Henry Miller.)

- Ray Horricks, 1964 (Original Sleeve Notes)
This was Graham's most groundbreaking and consistent album. More than his solo debut The Guitar Player (which was pretty jazzy) or his previous collaboration with folk singer Shirley Collins, Folk Roots, New Routes, this established his mixture of folk, jazz, blues, and Middle Eastern music, the use of a bassist and drummer also hinting at (though not quite reaching) folk-rock. "Leavin' Blues," "Skillet (Good'n'Greasy)," and "Moanin'" are all among his very best folk-blues-rock performances, while on "Maajun" he goes full-bore into Middle Eastern music on one of his most haunting and memorable pieces. Covers of traditional folk standards like "Black Is the Colour of My True Love's Hair" and "Seven Gypsies" combine with interpretations of compositions by Bob Dylan ("Don't Think Twice, It's Alright"), Willie Dixon ("My Babe"), Charles Mingus ("Better Git in Your Soul"), and Reverend Gary Davis ("Cocaine") for an eclecticism of repertoire that wasn't matched by many musicians of any sort in the mid-1960s. If there is one aspect of the recording to criticize, it is, as was usually the case with Graham, the thin, colorless vocals. The guitar playing is the main attraction, though; it's so stellar that it makes the less impressive singing easy to overlook. Ten of the 16 songs were included on the compilation Folk Blues and All Points in Between, but Graham fans should get this anyway, as the level of material and musicianship is pretty high throughout most of the disc.
- Richie Unterberger (AMG)
Track Listing:
1. Leavin' Blues (Leadbetter/Lomax/Lomax) - 2:54
A Leadbelly composition. In Davy's version it has travelled via India on it's way from Louisiana to London.



2. Cocaine (Davis) - 2:25
A sick junkie's call for love (or pity!). Davy first heard it when Jack Elliot visited England.



3. Sally Free and Easy (Tawney) - 3:51
A sailor's love-lament by Plymouth ex-sailor and singer Cyril Tawney.



4. Black Is the Colour of My True Loves Hair (Niles) - 2:23
A folk song, originally from Norway.



5. Rock Me Baby (Broonzy) - 2:47
By Bill Broonzy. Davy picked up from Alexis Korner, the pioneer of R & B in England.



6. Seven Gypsies (Graham) - 2:39
An English song, descended from Raggle-Taggle Gypsies-O



7. Ballad of the Sad Young Men (Wolf) - 3:10
From an off-Broadway show, The Nervous Set, by Landesman and Wolf. Davy sings only the first verse and chorus, which he thinks explains the dilemma of many young people.



8. Moanin' (Timmons) - 2:30
A Bobby Timmons composition, with a very churchy feel.



9. Skillet (Good'n'greasy) (Graham) - 2:27
The song of a happy man. Originally learned from a banjo player who claimed it came from the Appalachian Mountains.



10. Ain't Nobody's Business What I Do (Granger/Prince/Williams) - 2:20
Davy says "In my lyrics, I choose to bring out the loneliness side of the song"



11. Maajun (Graham) - 2:41
Davy plays a melody he found in Tangier.



12. I Can't Keep from Cryin' Sometimes (Graham) - 3:35
A song by Blind Willie Johnson, the gospel growler.



13. Don't Think Twice, It's Alright (Dylan) - 2:54
Davy's favourite Bob Dylan composition. "I think Dylan must have lived all the worlds," he says.


14. My Babe (Dixon) - 2:45
A well-known blues tune, to which Davy has added a Brubeck-ish rhythmic feel.



15. Goin' Down Slow (Oden) - 2:30
Davy's favourite blues number, by Champion Jack Dupree.



16. Better Git it in Your Soul (Mingus) - 2:28
A modern blues in 6/8 time by Charles Mingus.






Davey Graham – Guitar, Vocals