All That Moody
Rollercoaster Records ROLL2022 (1998)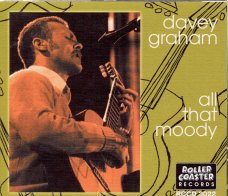 Album available as:-
(Rollercoaster Records ROLL2022)
All That Moody presents a comprehensive cross-section, and most probably conceived as such - a sort of Davy Graham retrospective. It was recorded in 1976, roughly a decade after the early classics from Topic and Decca and, while not quiet a lost masterpiece retrieved from oblivion like "After Hours", it is certainly a rarity in the Davy cannon. At the time Davy had moved out of town and was based down on the Kent coast. The project was instigated be a small independent company - Eron Enterprises - who presented their catalogue as "limited editions soon became collectors items", which was true enough with this release -ERON 007 - and again credit must go out to Rollercoaster for searching out the tapes and bringing them back into circulation.
The program is a kind of musical stepping-stone, going back to the early days, including a reworking of "Anji" - a nice example of contrapuntal blues playing a la "Blues for Betty" from the guitar player album re-titled "Blues For Gino" - a nod to Brownie and Sticks McGee possibly, or maybe Jimmy Yancey with a little Snooks Eaglin thrown in. A jazzy-blues "No Preacher" in the style of "Folk Blues And Beyond" material. A look back at the old street busking days with "Fingerbuster" - a raggy up-tempo bit of picking - a tip of the hat to Jessie Fuller, I would think. A classic Davy guitarististic tour-de-force, venturing into more a more progressive harmonic landscape on "Tristano", in homage to Lennie Tristano. And a move into modal explorations in the Eastern formats of "Blue Raga" and "Sunshine Raga", as well as a self-penned flamenco piece, "La Morana" - "The Dark One" - which, as far as I know, is a departure from previously recorded material.
It's good to know that Davy's back catalogue is finally being researched and systematically re-issued. It's certainly about time. Years of trying to describe the wonders of his playing to other musicians, and attempting to recreate a little in my own, are beginning to wear me down. The old recordings are, as Lightnin' Hopkins sang, "As welcome as the flowers in Mar". But I hear that Davy has just recently embarked on a new recording project - and that's the best news of all.
Extract from booklet notes to Rollercoaster CD RCCD 3022 "All That Moody" by John Renbourn, courtesy of Rollercoaster and © 1999 Rollercoaster Records.
Track Listing:
1. Anji (Graham) - 1:26
Roger suggested we do this with bass. We hope you like it.

2. La Morena (Graham) - 4:42
From fragments, some learned from Felicity's American, Chris, who was in Edinburgh in '62. The rest from Spain - at the time it reminded me of Wyn, my mother, who was black-haired and dark skinned like Dusky, her sister.

3. Travelling Man (Graham) - 1:57
My attempt to write a 'pop song'! (Never tried again)

4. Sunshine Raga (Graham) - 3:46
Inspired by a jugalbandi of Pandit Ravi Shankar and Ustad Ali Akbar Khan. In the Bhilawal mode (I think)

5. A Smoother One (Goodman) - 2:12
One of our Qabhlah group said it reminded him of the words "Eli poked us in the middle" ("Fred" was always doing that with jazz tunes)

6. Kim (Graham) - 2:24
My attempt at a piece in 7/4 with 4/4 middle. My justification is that I had not then heard enough bouzouki. Also for my daughter who was named after having seem the film with Dean Stockwell from Kipling's work. Had she been a boy we'd not have changed her name.

7. Jenra (Graham) - 2:04
After my first visit to Morocco I wanted a piece in a triple rhythm, which is so common there among Berber musicians.

8. No Preacher (Graham) - 2:37
A little irreverence (from a young man).

9. To Find The Sun (Graham) - 2:23
I was looking for a tune to one of Shakespear's sonnets (with little musical experience) one cold winter on the Grove. Now we all have Carnival in July.

10. Tristano (Graham) - 3:38
After the late great Lennie Tristano. Probably today, Keith Jarrett is what I would mean about a tremendous horizon at the piano. Fortunately Roger Bunn is rather good on jazz guitar chords - "Roger, how do your hands do that?"
11. Blues For Geno (Graham) - 3:05
(Was miss-titled Blues At Genos on the original Eron album) The later Geno Foreman was as good on blues piano as he was at blues guitar. As you can tell, I love "Snooks" Eaglin, too.

12. Fingerbuster (Graham) - 1:53
Learned from Geno, with some of me. Davis used to play it; it closely resembles "Little Rock Getaway" and Ivor Mairants's "Spirit of New Orleans" Ivor's book. "My Fretting Years" is a good read.

13. Blue Raga (Graham) - 4:38
The great Afghan musician Essa Kassimi, with Qadir Darwesh on tabla, have a fine version of this, Bairami mode.



Davey Graham – Guitar Vocals