Folk Blues & Beyond
DERAM 820988-2 (1991)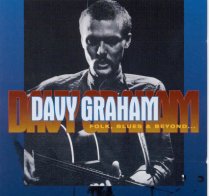 Album available as:-
(DERAM 820988-2 )
This was Graham's most groundbreaking and consistent album. More than his solo debut The Guitar Player (which was pretty jazzy) or his previous collaboration with folk singer Shirley Collins, Folk Roots, New Routes, this established his mixture of folk, jazz, blues, and Middle Eastern music, the use of a bassist and drummer also hinting at (though not quite reaching) folk-rock. "Leavin' Blues," "Skillet (Good'n'Greasy)," and "Moanin'" are all among his very best folk-blues-rock performances, while on "Maajun" he goes full-bore into Middle Eastern music on one of his most haunting and memorable pieces. Covers of traditional folk standards like "Black Is the Colour of My True Love's Hair" and "Seven Gypsies" combine with interpretations of compositions by Bob Dylan ("Don't Think Twice, It's Alright"), Willie Dixon ("My Babe"), Charles Mingus ("Better Git in Your Soul"), and Reverend Gary Davis ("Cocaine") for an eclecticism of repertoire that wasn't matched by many musicians of any sort in the mid-1960s. If there is one aspect of the recording to criticize, it is, as was usually the case with Graham, the thin, colorless vocals. The guitar playing is the main attraction, though; it's so stellar that it makes the less impressive singing easy to overlook. Ten of the 16 songs were included on the compilation Folk Blues and All Points in Between, but Graham fans should get this anyway, as the level of material and musicianship is pretty high throughout most of the disc.
- Richie Unterberger (AMG)
Track Listing:
1. Leavin' Blues (Leadbetter/Lomax/Lomax) - 2:54
A Leadbelly composition. In Davy's version it has travelled via India on it's way from Louisiana to London.

2. Cocaine (Davis) - 2:25
A sick junkie's call for love (or pity!). Davy first heard it when Jack Elliot visited England.

3. Sally Free and Easy (Tawney) - 3:51
A sailor's love-lament by Plymouth ex-sailor and singer Cyril Tawney.

4. Black Is the Colour of My True Loves Hair (Niles) - 2:23
A folk song, originally from Norway.

5. Rock Me Baby (Broonzy) - 2:47
By Bill Broonzy. Davy picked up from Alexis Korner, the pioneer of R & B in England.

6. Seven Gypsies (Graham) - 2:39
An English song, descended from Raggle-Taggle Gypsies-O

7. Ballad of the Sad Young Men (Wolf) - 3:10
From an off-Broadway show, The Nervous Set, by Landesman and Wolf. Davy sings only the first verse and chorus, which he thinks explains the dilemma of many young people.

8. Moanin' (Timmons) - 2:30
A Bobby Timmons composition, with a very churchy feel.

9. Skillet (Good'n'greasy) (Graham) - 2:27
The song of a happy man. Originally learned from a banjo player who claimed it came from the Appalachian Mountains.

10. Ain't Nobody's Business What I Do (Granger/Prince/Williams) - 2:20
Davy says "In my lyrics, I choose to bring out the loneliness side of the song"

11. Maajun (Graham) - 2:41
Davy plays a melody he found in Tangier.

12. I Can't Keep from Cryin' Sometimes (Graham) - 3:35
A song by Blind Willie Johnson, the gospel growler.

13. Don't Think Twice, It's Alright (Dylan) - 2:54
Davy's favourite Bob Dylan composition. "I think Dylan must have lived all the worlds," he says.

14. My Babe (Dixon) - 2:45
A well-known blues tune, to which Davy has added a Brubeck-ish rhythmic feel.

15. Goin' Down Slow (Oden) - 2:30
Davy's favourite blues number, by Champion Jack Dupree.

16. Better Get Hit in Yo' Soul (Mingus) - 2:28
A modern blues in 6/8 time by Charles Mingus.



Davey Graham – Guitar