The Complete Guitarist
Kicking Mule SNKF138 (1977)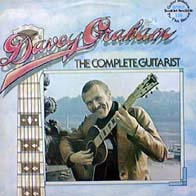 Album available as:-
(Kicking Mule SNKF138)
Davy Graham is a perfectionist. Since 1962, when he recorded the quiet remarkable - and largely unnoticed - ¾ AD with Alexis Korner, he has restricted his record output, and almost everything he has recorded has been of a high standard. So when he agrees that this is one of the finest records he's made, it really has to be one of the finest guitar records of recent years. His philosophy is that " I'd rather do this work and be a better musician. The more often I tune on TV or listen to the radio the better I think I am. People seem to have such low standards."
Throughout his career he has mixed these high personal standards with an inventive, daring approach to music. Because he plays acoustic guitar he may have been labelled as a "Folkie", but nothing could be further from the truth. He knows a great deal about folk music - and the folk music of North Africa and India as well as Britain and America - but he also has a strong interest in medieval music, later classical music, jazz and the blues.
Back in the early '60, when no one had invented jazz - rock, folk - rock or talked about "Fusion Music" Davy was already breaking down the barriers - and using jazz one acoustic guitar to do it. His two 1965 albums, Folk, Blues and Beyond and Folk Routes, New Routes were like the delayed time bombs. No one quite acknowledged them fully at the time, but they were to prove the start, not just of the so - called "Folk Baroque" guitar phase, but of far wider experiments in the folk field. On the first album, Davy combined an Indian sounding theme with Leadbelly's "Living Blues", and included a song by Cyril Tawney along side a tune by Bobby Timmons. On the second album, made with folk singer Shirley Collins he played Eastern style music and jazz pieces along side Shirley's traditionalist singing.
He had become one of the folk scene's, great practical academics because he had studied different sorts of music and had lived out the experiments that he played. He knew about the similarities between an air and a raga, and could elaborate on his theories of gypsy migration and its effects on Irish and Hindustani music, because he had made those journeys himself. His father was a Scottish Gaelic teacher and his mother was from Georgetown, Guyana, and after leaving school he had become an itinerant musician, first playing around Europe, and then North Africa and beyond.
This album is a natural continuation of his earlier, eclectic work, and shows the remarkable range of styles in which Davy works - from his own jazz and blues influenced compositions to Irish traditional themes and renaissance pieces. There's even jazz standard - always Horace Silver Sarah - but no North African or Indian pieces. This is not because Davy has lost interest in his type of music but rather he is currently mastering their authentic instruments, i.e. the Moroccan lute, Indian sarod and even the Greek bazouki. He will only use this professionally "when I'm at a professional standard". The sixteen tunes on this album were all chosen because they were instrumentals Davy likes and enjoys playing, rather than to demonstrate particular guitar styles, but of course the results work on both levels. This album is both an intriguing musical selection and tribute to his remarkable technique. He has included hymn tunes, a selection of Irish melodies that are a great personal favourite on his. "They are mostly pipe and fiddle tunes and I've been working on them for some time. I take a great interest in the Irish scene and I'm learning the language." Along side this there are the classical and medieval pieces ranging from Vaughn Williams Down Ampney to the prelude From The Suite In D Minor by Robert De Visee. ("a Frenchman who matched Downland")
All the instrumental were recorded "straight", with no overdubbing or double tracking (even though it sounds as if Davy is playing at least two guitars in some sections). During the recordings he used three different guitars in all (classical guitar for the early, courtly pieces, a steel-strung guitar for the Irish tunes and a high strung guitar for the Bach and medieval pieces). He used a variety of tunings in order to capture the texture and feel that each tune offered. When he is appearing, Davy says he believes in "Not trying to tell jokes, or talking too much as some musicians do. One should just play." Anyone who has seen his performance in recent months will know that the sometimes elusive and mysterious Mr Graham is alive, well and after all these years as an under-recognised guitar master, is "just playing" as brilliantly as ever. He is the one man who can justify calling an album "The Compete Guitarist"
- Robin Denslow, 1978. Original sleeve notes. (Thanks to Bridget Ramsay for the notes).
Those who are unfamiliar with Davey Graham's work, The Complete Guitarist might seem like a lofty title for this album. But it's a title that the Scottish musician, who has commanded a lot of respect in U.K. folk circles since emerging in the 1960s, lives up to on these unaccompanied acoustic solo-guitar recordings from the late 1970s. Diversity is the rule on this album, and Graham successfully turns his attention to an abundance of traditional Celtic songs (both Scottish and Irish) as well as everything from Bach's "Ein Feste Burg" to blues classics like Big Bill Broonzy's "When I Been Drinking" and Memphis Slim's "How Come You Do Me Like You Do." Whether it's Celtic music, classical, blues, or jazz, Graham has no problem tackling a variety of styles and demonstrating that he really is the complete guitarist. Originally released as a vinyl LP in the late 1970s, The Complete Guitarist was, in 1999, reissued on CD with eight bonus tracks from 1979-1980 added.
- Alex Henderson (AMG)
Track Listing:
1. Lord Mayo/Lord Inchiquin (Traditional) - 4:30
Lord Mayo and Lord Ichiquin - The first tune is a traditional Irish slow air while the second is an O'Caralan jig.
2. Lashtal's Room (Graham) - 1:59
Dedicated to Graham Bond. In the key of E minor modulating to G major.
3. Ein Feste Burg (A Mighty Fortress Is Our... (Bach) - 1:29
By J.S Bach. Now a hymn tune called A Mighty Fortress Is Our God.
4. The Rod to Lisdoonvana (Traditional) - 1:58
The Chieftains' version first acquainted me with this jig that turns into a reel.
5. Renaissance Piece (Traditional) - 1:50
I think this was composed by Navarez. It can be found in 700 Year Of Music For The Classical Guitar by Albert Valdes Blain, listed as No5 in the Renaissance section. Bass string tuned to D.
6. Hardman the Fiddler (Traditional) - 1:39
This is a lip jig. It has a pipe or fiddle tune.
7. Sarah - 3:55
A 12 bar blues from Horace Silver also to be found on a recording with Sonny Rollins and Dizzy Gillespie. I play it in the key of A.
8. Frieze Britches (Traditional) - 3:00
This is a double jig. Gunnla is the well known song to this melody.
9. Blues for Gino (Graham) - 2:56
I composed this 12 bar blues in E for the late Gino Foreman who played boss boogie piano as well as guitar.
10. The Hunter's Purse (Traditional) - 1:25
This is a reel.
11. Prelude from the Suite in D Minor (De Visee) - 1:02
The Suite in D minor - From Robert De Visee.
12. Fairies' Hornpipe (Traditional) - 1:30
From the repertoire of the Ard-Ri of Irish pipers, Seamas Ennis.
13. Forty Ton Parachute (Graham) - 1:28
A modern ragtime piece in G, which I composed about the time of the Apollo moon launch.
14. The Gold Ring (Traditional) - 2:20
This is a double jig. It is so popular among the pipers that I actually heard it as an uillean pipes duet at the Favourite off Holloway Road in London.
15. Down Ampney (Vaughan Williams) - :49
By R. Vaughn Williams and named after the place of his birth. As a hymn tune it is well known as Come Down O Love Divine.
16. Banish Misfortune (Traditional) - 1:52
This is a jig. Among Irish musicians it is also known as Vanish Me Foreskin.


Davey Graham – Guitar & Vocals