Both Sides Now
Decca F12841 (1968)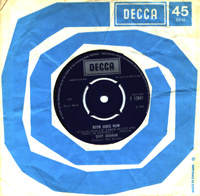 Album available as:-
(N/A)
A mega rare 7" single consisting of two tracks. "Both Sides Now" and "Tristano".
Track Listing:
1. Both Sides Now (Mitchell) - 5:58
A bit of ould Irish inspiration adds some flavour to an otherwise attractive sound - a shot in the arm for what might have been an evanescent fold song. Written by Joni Mitchell and sung by Judy Collins, an American singer whose records bear witness to some conviction.

2. Tristano (Graham) - 3:57
Ray Horricks, supervisor on this session and author of a definitive work on Court Basie, considers this my finest composition to date. Hmm



Davey Graham – Guitar & Vocals
Danny Thompson – Double Bass