From London To Hootenanny
Decca DFE8538 (1963)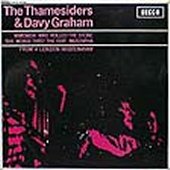 Album available as:-
(N/A)
The three members of the Thamesiders (Marlon Grey and Martin Carthy on guitars, Pete Maynard on bass) have become one of the best known and most respected folk singing groups in Britain with a cohesive and sincere approach to the songs which they sing. Their work, unlike so many other groups of this genre, has not been allowed to loose itself in a welter of vocal chicanery and instrumental flourishes, but retains its basic simplicity and honesty. The quality is evident in their versions of Wimoweh; or more traditionally Mbube, an old Zulu song about a lion hunt which achieved some commercial success several years ago at the hands of Yma Sumao and more recently with a version by Karl Denver. The second of their two songs is a spiritual Who rolled the stone? which is still a great favourite at Baptist meetings in the States.
Davy Graham is a quiet, slightly built young man with an impressive guitar technique, which is entirely self-taught. Although he appears on the record as an instrumentalist, he is also an impressive blues singer with a very individual and arresting style. Until recently he was a featured performer at a small Chelsea bistro and various folk gatherings in the area, but he joined fellow guitarist Alexis Korner in his Blues Incorporated group. She moved thro' the fair is one of the loveliest of all Irish melodies albelt one of the most difficult to phrase, shapes and bring to a perfect conclusion. Mustapha is a little tune of Mediterranean origin which swept the continent in a wave of popularity a couple of years ago and which Davy has revived for his very own individual interpretation.
- Taken from original sleeve notes, 1963.
Track Listing:
1. Wimoweh
2. Who Rolled The Stone (arr. Thamsiders)
3. She Moved Thro' The Fair (arr. Denver)
4. Mustapha (arr. Graham)


Marlon Grey – Guitar (Tracks 1,2)
Martin Carthy – Guitar (Tracks 1,2)
Pete Maynard – Bass (Tracks 1,2)
Davey Graham – Guitar (Tracks 3,4)